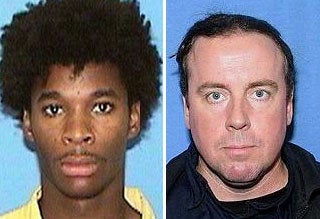 A 19-year-old parolee has been charged with first-degree murder in the shooting deaths of Chicago Police Officer Michael Flisk and a former Chicago Housing Authority cop, who were killed following a Friday burglary on the South Side.
Flisk, an evidence technician and 19-year veteran with the department, responded to the 8100 block of South Burnham Avenue Friday after former CHA officer Stephen Peters called police. Peters, 44, reported that his GT Mustang had been stolen. Flisk was discussing the burglary with Peters in the alley when a gunman approached and fatally shot both men.
Calumet Area detectives told the Chicago Tribune that Herring stole the vehicle, and killed Flisk and Peters because he did not want to be caught. Peters' father told the paper that the teen left a substantial amount of evidence behind, though police were not disclosing what that evidence was Monday evening.
Aside from the murder charges, the Sun-Times reports that Herring has also been charged with an "unrelated June 18 attempted murder." A source told the Tribune the victim did not press charges in June fearing that Herring would harm his mother.
Flisk was the fifth Chicago police officer to be shot and killed this year and the second in one week. Officer David Blake was found fatally shot in his SUV Monday on the South Side.
"There hasn't been a year this bad since the 1960s," Fraternal Order of Police president Mark Donahue told the Chicago Tribune over the weekend.
Officer Flisk is survived by his wife and four children. Peters, a military veteran, was retired after years of working for the Chicago Housing Authority and a suburban police department, NBC Chicago reports.
As the department tried to piece together yet another police officer's murder, hundreds of people paid respects to Officer David Blake at his funeral on Sunday.
"The thought that someone can shoot and kill a police officer is simply unacceptable," police Supt. Jody Weis said Friday.
Visitation for the Flisk is scheduled for Tuesday, Nov. 30 at Brady and Gill Buneral Home in Evergreen Park from 3 p.m. to 9 p.m, according to the Chicago Police Department. Funeral services will follow on Friday at 10 a.m. at St. Rita of Cascia Shrine Chapel.
Herring has been living in the South Side neighborhood since he was released from prison on parole Sept. 14 after being convicted of armed robbery. His bond hearing is set for Tuesday.
Calling all HuffPost superfans!
Sign up for membership to become a founding member and help shape HuffPost's next chapter