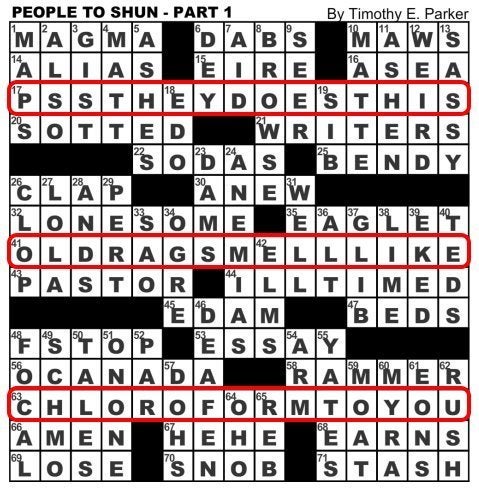 A disgraced crossword puzzle writer included a rape joke in one of his syndicated puzzles, which ran in some major newspapers this week.
Timothy Parker was already a polarizing name in the crossword community after FiveThirtyEight revealed last year that he'd plagiarized dozens of New York Times crossword puzzles and repurposed them for the syndicated Universal Crossword, where he's still published to this day.
On Tuesday, news organizations across the country ran Parker's crossword, titled "People to Shun," which included a bizarre, three-part rape joke as an answer to the clue "Run from anyone who says this."
The answer, which spans the combined length of 17, 41 and 63 across, reads: "PSST HEY DOES THIS OLD RAG SMELL LIKE CHLOROFORM TO YOU."
The disgusting joke references chloroform, a chemical compound that has been used to knock people out and sexually assault them.
Evan Birnholz, the Sunday crossword writer for The Washington Post, revealed the answer to Parker's puzzle Wednesday on Twitter, calling for Universal Crossword and the papers that ran the puzzle to take notice.
"When I saw that set of answers, and when other crossword constructors saw them, the reaction was utter revulsion," Birnholz told HuffPost. "I don't know what he was thinking."
Parker and representatives at Andrews McMeel Syndication, which syndicates Universal Crossword, didn't respond to HuffPost's repeated calls for comment. The Andrews McMeel website says Parker "sets the standard for all daily crosswords."
Parker was temporarily suspended after his plagiarism scandal last year, but people in the crossword community like Birnholz have been keeping a close eye on him since his name started cropping back up on syndicated puzzles.
The papers that run Universal Crossword don't appear to be publicly listed, so it's unclear how many ran Parker's rape joke. But the puzzle was seen online or in print at The Boston Globe, The Philadelphia Inquirer and The Denver Post, among others.
Michelle Bjork, a deputy managing editor for the Philadelphia Daily News and Inquirer, confirmed to HuffPost that it ran in the papers.
"The Inquirer does not solve any of the puzzles in advance," she said via email. "Now that we know the answer to the three clues, we agree it is inappropriate and offensive."
The "joke" isn't original to Parker; versions of it have been referenced in pop culture for some time, including on Patton Oswalt's 2009 album "My Weakness Is Strong" and in a 2009 episode of "Family Guy."
It's unclear how the answer made it through Universal Crossword's editing process, whatever that may be. But as a general practice, crossword writers wouldn't craft anything remotely offensive knowing it'd show up in a newspaper, said Birnholz.
He noted a well-known, unwritten rule in the crossword community called the "breakfast test," which crossword crafters use to decide what material should run in the paper each morning.
"Can you say something juvenile? It depends on the outlet," Birnholz said. "One thing that's understood among crossword crafters: You don't want to go near really depressing or violent subjects. You'll never see a respectable crossword crafter write a theme about the Third Reich or the KKK."
Nor would you ever see a theme like Parker's, he said.
Popular in the Community