The 43-year-old was arrested in 1999 and accused of sexual battery on a 9-year-old. He eventually pled guilty to attempted sexual battery in a plea bargain and is currently listed as a sex predator in state records, ClickOrlando reports.
The Orlando Sentinel reports that Poole's name and photo were initially on the lottery's website, where winners are publicized, but both were later removed.
The paper says Poole won the $3 million in the state lottery's Super Millions scratch-off game, electing to receive the money in the form of a one-time lump-sum payment of $2,219,807.90.
"No longer under any form of confinement, supervision or any other court imposed sanction. Still required to register in accordance with Florida law."

Poole is described as 6 feet tall and 450 pounds, and lives in the town of Mount Dora, about 30 miles northwest of Orlando.
The Sentinel said he's been arrested 12 times on charges that include grand theft and forging a check. The paper says he also served 3 months in prison in 1996.
He has been trying to avoid the media spotlight; however, a friend who was with him when he won spoke to the local CBS affiliate.
"He's a very positive person. Very kind. Giving. I think that's why he won," Snyder said. "It's Christmastime, and the dude deserves a break."
Related
Before You Go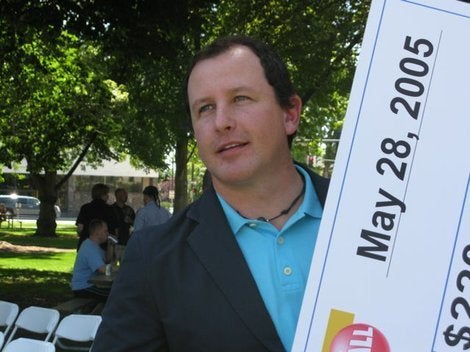 Spare Change: 5 Lottery Winners Who Made A Difference With Their Money
Popular in the Community