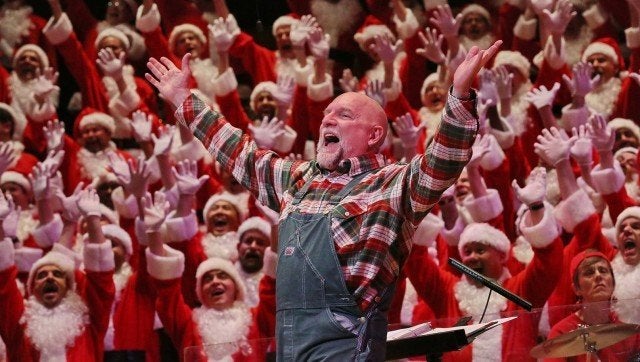 This post is part of our My SF series that profiles our best, brightest and most interesting local personalities.
Neighborhood: Inner Sunset
Years in SF: Two ("Sadly not all my life.")
Current Gig: After a 25-year career of conducting choruses across the country, Seelig is now the Artist Director and Conductor of the San Francisco Gay Men's Chorus (SFGMC)--the first and oldest gay ensemble in the world.
Tim, tell me about your background. How did you become the conductor of the San Francisco Gay Men's Chorus? I conducted the gay men's chorus in Dallas, Texas for twenty years, and a few other gay and lesbian choruses before that. I started my life as an opera singer, and had a wife and two children. Things shifted gears after I came out, obviously, and I discovered gay choruses: my mission. The rest, as they say, is history.
What made you leave Texas to join the SFGMC? This job is the only one that I would have taken subsequent to my run in Dallas. I've been doing this a long time, but when I saw the opening, I couldn't not apply. The San Francisco Gay Men's Chorus will always be the first, the flagship. This is the granddaddy. This is the group that could make me move away from my life in Texas.
Have you found it rewarding? I don't even know how to answer that question. Yes is the understatement.
Does one have to be gay to join the chorus? Absolutely not. We are part of an organization called GALA choruses (Gay and Lesbian Association of Choruses); some have "gay" in the name and some don't. But choruses both gay and lesbian all across the country have straight singers in them. We like to think that it's because we make great music but also have a lot of fun. The place to find fun is with the gays, and you can quote me on that. I've been on the other side of the coin and it was not that much fun.
So the chorus has a Christmas Eve show. We have three, and we will absolutely sell them all out. People keep asking if we're going to add a fourth. The answer is NO--all caps. It's Christmas Eve, people!
Clearly it's a demanding tradition. Why do it? I always thought the SFGMC was crazy. If I wanted to do concerts on Christmas eve, I could have just stayed in the church. And then I experienced it in person. It's a terrible thing for a wordsmith to say that something is indescribable – there are so many words in the English language. But I'm sorry, I can't describe this to you. I've never experienced a sense of community that is as palpable as the Castro Theatre on Christmas Eve.
At least describe the scene for me. Each show seats 1,400 people, and when one gets out, the crowd for the next show is lined up outside. That means 2,800 people are passing each other in our lobby. Everyone is hugging and kissing and wishing each other a happy holiday, and it just becomes this block party. And there are children everywhere. I have two biological children and one two-year-old granddaughter, Clara, and she'll be at the 5 p.m. show. It's a sight to be seen. I don't know if you could find that anywhere else in the United States.
How did that tradition get started? In 1989, in the midst of the AIDS crisis, so many people in San Francisco were unable to go home for the holidays for a lot of reasons: health, disownment from families, disenfranchisement from churches. The conductor at the time decided to host a show to give people somewhere to go on the holiday besides just the bars. They called it Home for the Holidays, and now it's in its 23rd year.
The chorus recently performed a song, "Testimony," for the "It Gets Better" project. The Huffington Post called it "the It Gets Better anthem." Tell me a bit about that experience. It was really [Broadway composer] Stephen Schwartz ("Wicked," "Godspell") and Dan Savage [creator of the "It Gets Better" project]. It started with Stephen saying he'd like to come to a concert. Then he wanted to compose something for the chorus, specifically, so I was basically falling out of my chair with excitement. He said he had been so moved by the It Gets Better project, so we got him in touch with Dan, and they got to work. Six months later, the music arrived in my mailbox. The song is so poignant because all of the lyrics are quotes directly from the "It Gets Better" project. Dan sorted through his submissions and Stephen put them together into a song. Now it's especially exciting because that music is being published for both men's and mixed choruses, meaning high schools, colleges and other choruses can sing it. It's taken on a life of its own.

SFGMC has a history of taking on social issues through music: the "It Gets Better" project, the AIDS crisis of the '80s and '90s and the group's very first show at Harvey Milk's memorial in 1978. Do you feel like the chorus has a greater responsibility than just music? Absolutely. If you go to the GALA Choruses website, it says that every time a LGBT chorus sings, we make a statement. I love the arts, all of them, but it's completely different than what we do. An anchorwoman recently asked me why we needed to have a gay chorus. I looked her right in the eye and told her that until discrimination is over, until gay and lesbian people aren't being thrown out by their families, there will be gay choruses. Until then, we have to hold that banner high.
What's coming up for the chorus? Next year is the 35th anniversary of the Harvey Milk assassination, so the season will focus on that. That anniversary is very important to us for both the obvious reasons, and because the chorus' first performance was at Harvey's memorial. And this spring we're doing a partnership with Beach Blanket Babylon.
What do you think about living in San Francisco so far? Oh I love it. I live with my granddaughter in the Inner Sunset and we're just a stroller-push away from the de Young Museum and the California Academy of Sciences. Living one block from Golden Gate Park is ridiculous. For Clara to grow up with this as her backdrop? I can't imagine anything more incredible.
Have you found any good restaurants? Any of them with a sign that says "open." Are you kidding? I have not had one bad meal in San Francisco. I'm a musician so I can't go to all of the restaurants I've read about. If anyone would like to take me to the French Laundry I'm open to it. [Laughs] Anything with seafood has my name on it and San Francisco has the best seafood. I do have to admit, however, that I miss Tex-Mex. Ooh do I miss Tex-Mex. And I don't understand why you people don't have chicken fried steak.
What's your favorite holiday activity in the city? I have a new San Francisco tradition. This will be my third Christmas day brunch at the Palace Hotel. When my friends first told me about it I said, "Really? A hotel brunch for Christmas. Really? Do they have Tex-Mex?" But of course, I turned the corner and it was absolutely jaw-dropping. So now I'm taking Clara and she will have her second Christmas brunch at the Palace on Tuesday.
PHOTO GALLERY
It Gets Better Videos
REAL LIFE. REAL NEWS. REAL VOICES.
Help us tell more of the stories that matter from voices that too often remain unheard.