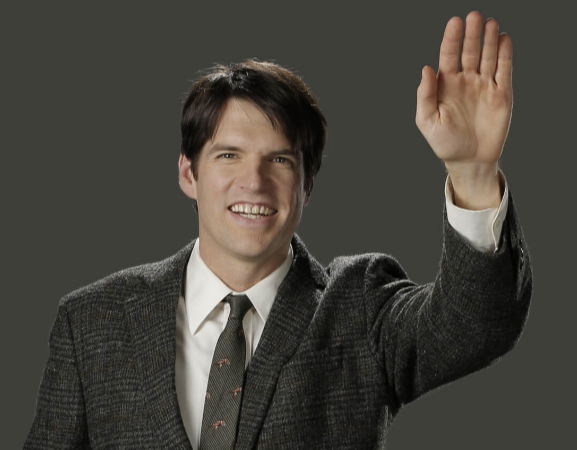 If you talk to Timothy Simons about the 2016 Presidential Election, you're going to hear the words "too broad" quite a bit.
The term refers to a type of comedy that is so over the top that it almost isn't believable. "Too ridiculous to ever be rooted in an actual reality," as Simons puts it. But to Simons, "broad" is the perfect word to describe a political climate that has recently made his HBO political comedy look tame by comparison.
"Ostensibly this entire election campaign is like a comedy version of someone hitting you in the face with a fish," Simons told The Huffington Post during a recent phone interview. "It's so ridiculous, it would never happen in real life."
Simons plays the entirely hateable, bafflingly self-assured and impressively idiotic Jonah Ryan on HBO's "Veep," a show that has garnered praise through its first four and half seasons for its portrayal of the Washington establishment as bumbling and self-interested, first and foremost. 
In Season 5, Simons' character has received something of a political break: Due to nothing more than him being a "spectacular dumbass," Jonah is selected to run for Congress in New Hampshire by his uncle, who needs a placeholder to run against a well-regarded widow while he waits for his other nephew, Ezra, to return from the military for a successful run. Then something strange happens. When Jonah gets on stage, he starts spouting whatever the audience wants to hear -- sound familiar? -- and against all odds, wins them over, much to the surprise of everyone except himself and his unwavering sidekick, Richard Splett. 
The idea that Jonah might one day run for Congress first came up during Season 2, but now that it's finally materialized, the show has gone all in on the plotline, launching jonahryanforcongress.com and uploading a number of perfectly subtle political ads on YouTube -- the majority of which Simons says were written and filmed in one day. Simons told HuffPost he didn't base Jonah the politician on any one person in particular, but believes that Jonah bears a resemblance to a particular type of person in "real" Washington -- the politician who has "failed upwards" into a position of power.
"Jonah is kind of the person that this would end up happening to, just a meat puppet that somebody else can control," Simons said. "We've seen it with some very prominent politicians that if you get enough people putting words in their mouths, they can come off as OK, even if they are just truly odious people.
"And I'm not talking about Donald Trump when I say that. He's sort of an outlier," he added. "I'm more talking about career politicians like Ted Cruz."
As ridiculous as Jonah might seem at times -- and he does sit firmly in the exaggerated corner of the "Veep" spectrum -- there have been many moments in which the "Veep" writers and actors came up with an absurdist idea for his character, only to see a comparable moment then play out on CNN.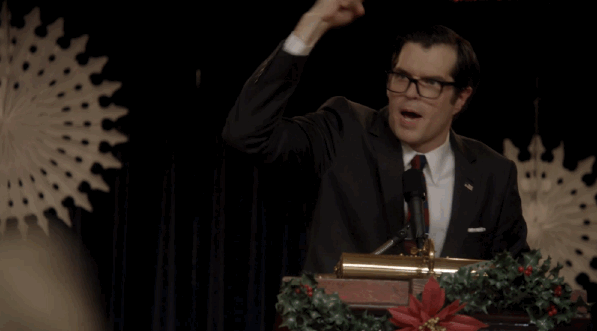 One example stands out to Simons: Near the end of the first speech of his political campaign, Jonah maybe accidentally sort of raises his hand in a manner similar to a certain Nazi dictator. The idea came up during a rehearsal months ago, and seemed a little too ridiculous for a show known for its realistic humor.
"Oh, I don't know, it might be too broad," he remembers thinking. But they decided to go with it anyway. Then, a couple days after that scene was filmed, none other than Donald Trump was photographed doing almost the exact same thing. The media took it and ran with it, and suddenly Simons thought his heil would never make the cut -- "simply because it would look like a rip from the headlines." 
"That's an example of [asking yourself], 'What's the dumbest thing a politician can do?' And then a politician goes out and does it."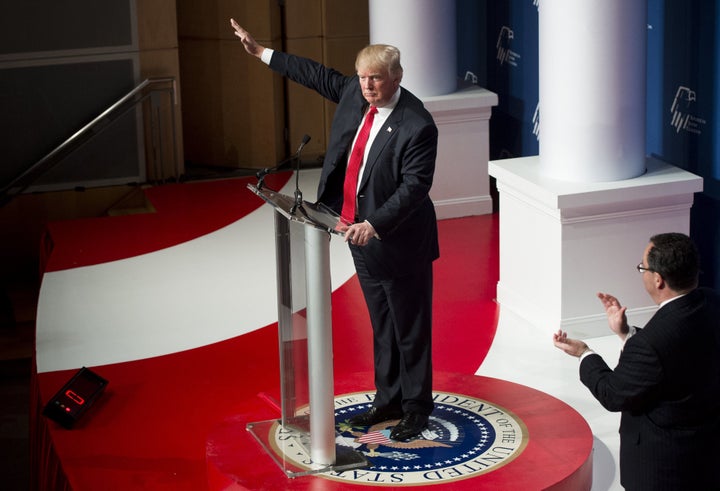 In Simons' opinion, the 2016 election has also featured many moments that don't simply mirror the absurdity of "Veep," but go beyond it. "If you were to say, 'Oh, [why don't] we have a presidential candidate who's alluding to the size of his penis?' If that was your story pitch, you'd be fired," Simons said. "Or if you were like, 'Oh, a bird landed on the podium of [President] Selina [Meyer], and everybody clapped and loved it and made T-shirts, they'd be like, 'You're fired. Get the fuck out of here.'" 
Sadly, there are almost too many real-life moments to count. How about the Republican candidates' inability to successfully walk onto the stage for the debate? "You could not have written that any better," Simons said. "That is perfect comedy writing, if you actually look at it on paper."
Or what about the Carly Fiorina-Ted Cruz handshake for the ages? "The handlers of those two politicians sat them down before that announcement to say, 'You literally must have the upper hand. You cannot let her [or his] hand be above your hand in the picture,'" Simons joked. "I loved seeing two people saying, 'We're coming together for the good of the country,' and it is so clear that they are only going together for the good of themselves."
Listening to Simons talk, it's hard not to wonder, has "Veep" forever tainted the way he'll view Washington politics? Was he always so cynical? For those interested, the answers are, respectively: It has, and he wasn't.
"When I started working on the show, I very much had a romantic sort of 'West Wing'-esque view of how Washington works, just a bunch of good-hearted people trying to do their best to lead the country," he said, then laughed.
"I don't know if I have that view of it anymore."

HBO's "Veep" airs on Sundays at 10:30 p.m.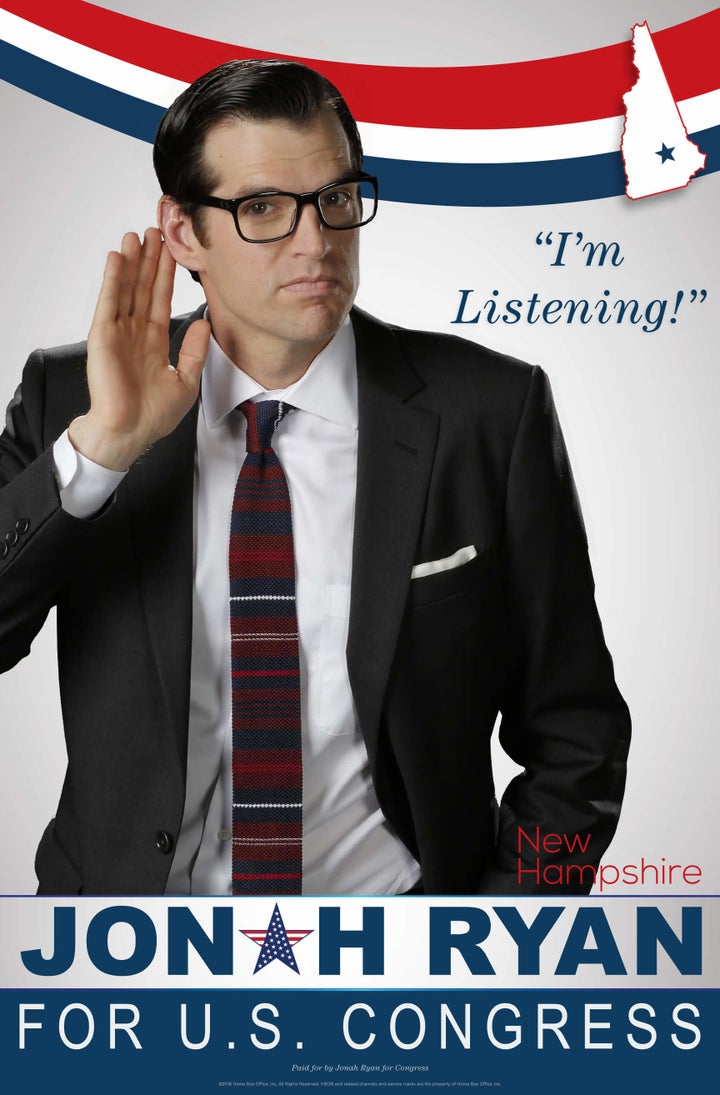 REAL LIFE. REAL NEWS. REAL VOICES.
Help us tell more of the stories that matter from voices that too often remain unheard.
BEFORE YOU GO
PHOTO GALLERY
14 TV Shows Netflix Should Remake