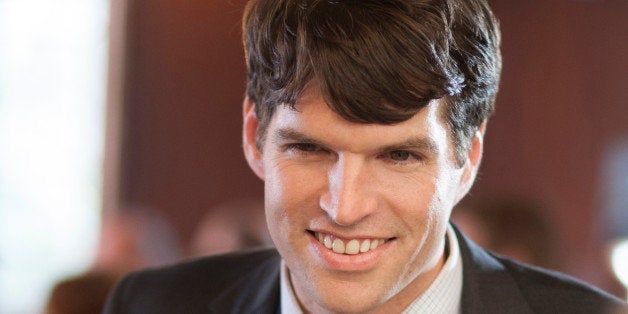 The Internet can take a volatile "Veep" joke, and so can HBO's designated dunce, Jonah Ryan. Timothy Simons plays Jonah, the narcissistic, over-the-top goon everyone in D.C. hates, and in Season 3, viewers find themselves rooting against Jonah more than ever. After he's fired from the White House -- you cannot start a "gossiptainment" blog and expect to work in government -- Jonah has no idea what to do with himself, and Ryantology, a horrific excuse for a news site, is born. A sucker for bold claims and BS, Jonah's blog is a joke, like everything else on the show.
In this season's second episode, which debuted April 13, Jonah shouts out the Washington "Toast," the "Poo" York Times" and, yes, "PuffHo." D.C. is Ryantology's world, according to Jonah. "Being that we're on a political satire, it is a natural thing that that world is going to be on our show," Simons said in an interview with HuffPost TV.
"Veep" is Simons' first big role on TV. He shows up to work every day, hangs out with comedy legends like Julia Louis-Dreyfus and Matt Walsh while they call him things like Long Tall Sally and Jonad. It's a dream job, he said. Below, Simons talks about Jonah's big move away from the White House and what it's like to have Julia Louis-Dreyfus make fun of you all day.
I've heard some of the great lines have been ad-libbed. How much of those zingers come from the actors?
A lot of the quippy, word play insults, I would say 99 percent of those come from the writers. They have a particular talent for that. Some of the more blunt insults might be mine, but I just don't have the sort of quickness that the writers have. Maybe it's something they're born with because they're all from the U.K.
My favorite name you've been called is Jolly Green Jizz Face.
Oh God, I love that one. Reid [Scott] comes up with one in the first episode of this season. He calls me Hepatitis J. I really am a big fan of that one. When he came in with that one, like the first take, I broke immediately. I couldn't keep it together on that one. What you see ultimately is the second take of him saying that.
It looks like you need thick skin to be on this show because it can get pretty personal. Have you felt that?
Yeah, I don't know what it is that allows us to turn off the part of our brain that would take offense. They're making fun of Jonah's physical appearance. Outside of slight changes -- like my hair is much more awkward as Jonah -- that is just me. That is just my physicality they're making fun of. I guess there is a thing in your brain that allows you to separate from it. It makes you feel like, "Oh they're making fun of Jonah." I've lived with myself for a very long time, so I'm aware of what I look like. I'm under no false pretense that I'm a stunner, so if somebody comes up and says something about my physical appearance, it's okay. That makes sense.
This season, it really feels more like an ensemble cast. Now it feels like people have settled into this great cast you have. Do you feel that coming into play?
Now we've been working together for so long that I feel like the comfort level in the room is so high with everyone. Even if you do have a fall, you know everybody else around you will make it look like it was perfect because they're going to react to it so well. It's just kind of been there since day one. We all just hit the ground running when we first showed up in Baltimore.
Last year, the New York Times declared "Veep" characters to be shorthand for real-life D.C. yuppies. Do you still hear from fans like, "Oh my god I know someone like Jonah?"
I actually have heard that a lot. It's from people not just in politics. Maybe not surprisingly, I've heard it from a lot of people who don't work in politics. When people come up and approach me about it, I tend to not get people say, "Oh, I hate you." I don't get that projected Jonah hate. I usually get people that want to commiserate about how one of their co-workers is like him. "Hey how's it going. Love the show. You have no idea. This f--king kid I work with is just like Jonah."
It's a total blast to hear Jonah talk about journalism and the state of media this season.
Being that we're on a political satire, it is a natural thing that, yes, that world is going to be on our show. We're going to have some satirical aspects to it. I do agree with that that is too often the sentiment when it comes to internet reporting. You should definitely know a code of ethics that sometimes gets lost.
I have to bring up the HuffPost shoutout. Well played, "Veep."
I'm glad that doesn't come as a surprise. I was confused when they said you wanted to interview, I was like, "Have they seen it yet?!"
It's cool. We can take a joke. This is your first bigger TV role like this. What does it feel like to work with these comedy vets?
There was definitely a learning curve there. Julia is a very welcoming and amazingly collaborative castmate, but she's an icon and when you're not used to being around people of her stature, it's definitely an intimidating thing. Not because she's an intimidating and mean person by any stretch, but it's just a very intimidating situation. With Tony Hale and Matt Walsh, these are very big people in the comedy world. I guess, quickly, you just kind of have to wrap your mind around the idea that in Jonah's mind he's high status to her, so you just have to find a way to re-wire your brain to feel like that. It's really been an amazing experience because I never went to grad school. But I feel like this is as close as I'm going to get. To go to work every day and figure out funny business with comedy legends. You learn something new about comedy every single every day, even just having coffee and telling jokes in the video booth.
Moving forward with Jonah, clearly he goes on an interesting journey this season when his job and identity are shaken a couple times. In a way, he gets what's coming to him by being such an asshole.
I think that one thing Jonah's really good at is knowing how to put himself in a position adjacent to power. I feel like one of the things that's fun about the second half of the season is -- as we all know from the primary campaign -- power shifts very quickly between candidates. Watching Jonah try to navigate that is really fun.
Will Jonah ever find love?
I think that he'll find a version of love. He'll find his definition of it.
Could you imagine Jonah having a girlfriend? The kind of woman who would be his girlfriend…
Oh god. It would be so tragic to look at. It'd be like she's a solid 9, a weak 10. He'd go through a lot of credit card debt but she's also a senator's daughter. Those are the kinds of things that would be like, "It doesn't matter if she hates me."
"Veep" airs Sundays at 10:30 p.m. EDT on HBO.
REAL LIFE. REAL NEWS. REAL VOICES.
Help us tell more of the stories that matter from voices that too often remain unheard.
BEFORE YOU GO