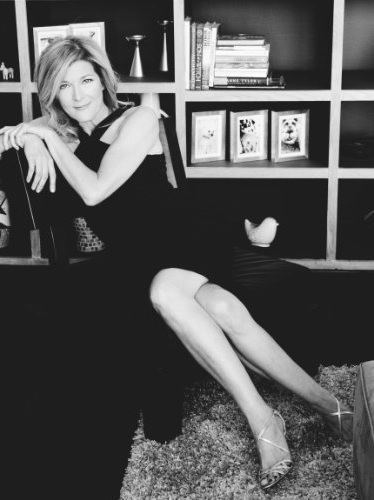 Tina Alexis Allen plays 'Shurn' on WGN's Outsiders.
Tina Alexis Allen Twitter , Outsiders Twitter

I love when I get to speak to someone with as much diversity as Tina Alexis Allen. It totally overloads my sense of thinking - which I welcome and enjoy. You know, because I love complicated people and ideas.
Here's the breakdown of Tina Alexis Allen: basketball star, MBA in Marketing, fashion executive in NYC, acting, jewelry, philanthropy, book.
Let's compare Tina to me... breakdown of Ilana: "V" fanatic, "V" fanatic, four year college degree in television and journalism, "V" fanatic.
I think we can all agree that Tina Alexis Allen is one hellavu' lady!
On WGN's Outsiders, you play 'Shurn', an integral and fiery member of the 'Farrell' family clan. What happened at your audition?
Shurn was described as an Appalachian woman from a Dorothea Lang photograph who was born on the mountain and has never been off. Shurn suffers a horrific tragedy and in raging grief, she grabs a knife, jumps a table and goes after the person she holds responsible, Big Foster (David Morse). That's basically how we meet this feisty gal. The original audition was a ridiculously fast self-tape on my iPhone because the deadline was like, yesterday. I got a call back and was offered a Skype session with the director. I said, "No thanks, I'm coming to Pittsburgh." Literally, I got on a bus the next day. And the rest is history and pure joy. What an amazing season one with a crazy great ensemble!
You're the youngest of 13 children. What's the story with you coming into this world?
I have seven sisters and five brothers, I'm pretty sure I was planned - although my parents actually discussed having 15 kids, I can't even fathom that conversation but it really did happen. Whenever I say, I am the youngest of 13 kids, I'm often asked: Mormon or Catholic? Catholic. And yes, I remember all of their names.
Tell us about your basketball career which led to college scholarships.
I started playing competitive basketball when I was 10, but much younger with my brothers and sisters. I lived and breathed hoops; I played in an all men's summer league when I was in high school, played pick-up games on the weekends with my brothers and their friends for years. I read somewhere in grade school that girls could get basketball scholarships to college and I decided right then that's what I wanted. In addition to getting awards and attention in the DC area (First Team All- Metropolitan) I went to a high profile summer basketball camp where I caught the eye of college coaches including the Stanford and Maryland coaches. There are so many great basketball memories; I had a blast playing, and I still play. But winning the Gold Medal in the US Youth Games was incredibly thrilling for a 12 year old! As for my jersey number, since I'm the youngest of 13 children and my mom always called me her lucky 13, that was always my jersey number.
You study with famed acting coach Susan Batson. How'd you get introduced to her? What's one thing Susan taught you that is engraved in your brain forever?
Thanks to a friend, I took my very first acting class with Susan and frankly there are like a thousand things engraved in my brain forever. She is a master. But the one that feels at the underbelly of her method is: you must find the truth for the character in every single moment. If it's not truthful, it's shit. That's the demand, always. And there is no in between.
You've played a man and you've played a transgender person. What research, if any, did you do for these roles?
I played a (male to female) transgender prostitute in an indie called Phantom Pain. I was creating the character with Susan in New York and my first step was to find the guy since the character was a man. The first layer. So, I would go out in public and try to pass. I'd take the bus, hail cabs, and go out to clubs. But then for the full character - a trans prostitute - I actually went to some pretty interesting bars on the far, far, far westside of Manhattan where transgender people hung out.
I also played a man - my father, actually. I wrote and performed Secrets of a Holy Father, Off-Broadway literally as a one-man show. Writing his voice first helped me get into his character, also, his mannerism which I witnessed my entire life and his British accent were gig hooks for me.
Why do you use middle name Alexis in your professional name?
Tina Alexis Allen is my "stage" name. I've always been called Tina but the rest is a family name on my mother's side. My great great aunt was a silent screen actress named Winifred Allen. I have an incredible photo of my aunt with Theda Bara.
Did you ever have braces?
Happily, no - but I do recall kissing someone who did and it was painful as I recall... oh, and while we are on dental topics, I'll offer some inside scoop, I've never had a cavity.
Your memoir, based on your solo show SECRETS OF A HOLY FATHER is due out early 2017 on HarperCollins' Dey Street Publishing. Your dad had a secret life -- he was gay. How did writing the show and memoir help you understand what was going on in your father's head?
Out of respect and obligation to Harper Collins and our publishing date of early 2017, I need to pass on the questions relating to the book... but stay tuned. I'd love to talk with you closer to publication and have a really in depth discussion about all this.
How did you and Gina Raphaela get a line of jewelry into Barney's?
The top brass at Barney's have been fans of co-founder Gina Raphaela's artwork for many years. When we came up with the concept of creating a socially conscious jewelry collection - based on Gina's art - that supports a mission of peace, Barney's immediately wanted to engage with our brand. We use deconstructed bullets and turn them into beautiful pieces of jewelry that have caught the eye of some amazing style makers, including Rihanna and Nicole Kidman.
Do you feel you had an advantage or disadvantage at coming into acting at a late age?
Both. On the one hand, I always feel like I'm playing catch up to my peers. I just never even thought of acting - like ever, ever - until I was nearly 30. On the other hand, having a business degree (MBA), another career (fashion) first, and being an athlete gave me other skills that contribute to my drive and comfort wearing multiple hats (writing, producing and being an author and business owner) I trust in the timing of things and that I'm right where I'm supposed to be.
You participate in the charities Stop Violence Against Women and Gun Sense in America, No More Violence.
Peace is what we represent and we give partial proceeds to Non-profits that also have a platform of non-violence.
Calling all HuffPost superfans!
Sign up for membership to become a founding member and help shape HuffPost's next chapter