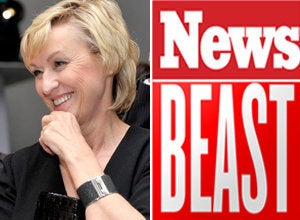 Tina Brown, fresh into her job as the editor of Newsweek, is adjusting to the austerity of the magazine world by jettisoning the glitzy parties and expensive stable of writers she was famous for at her old titles, the New York Times reported on Monday.
Brown's Daily Beast announced its "marriage" to Newsweek in November. Since then, the media industry has been buzzing about whether Brown--one of the most celebrated editors around--can turn the deeply struggling magazine around, and what her version of Newsweek will look like.
So far, there has been little public discussion of how Newsweek is being redesigned, or even when the first redesigned edition is being released. There have been reports, though, that the overhaul is dramatic and sweeping, with heavier paper and more use of white space and photography. Brown told the Times' Jeremy Peters that this hush-hush strategy is deliberate.
"We're only going to do it when we're ready, let's put it that way," she said. "I think that big, sort of theatrical relaunches tend to set you up for failure and hype."
Brown is also operating in a wildly different world than when she last edited a magazine in the late 1990s. There is no money for contributors who write a few pieces a year for a huge salary, or for huge, celebrity-filled parties. "We're sort of done with that...maybe we'll have a Christmas party," she said to the Times.
Brown will also be working with a slimmed-down staff. Newsweek has already gone through several rounds of cost-cutting, and just last week, the magazine announced that it was seeking an additional 30 voluntary buyouts.
"I think the most important thing is to prove that a year from now we're thriving and still here," she told the Times.
Support HuffPost
The Stakes Have Never Been Higher
Related
Popular in the Community