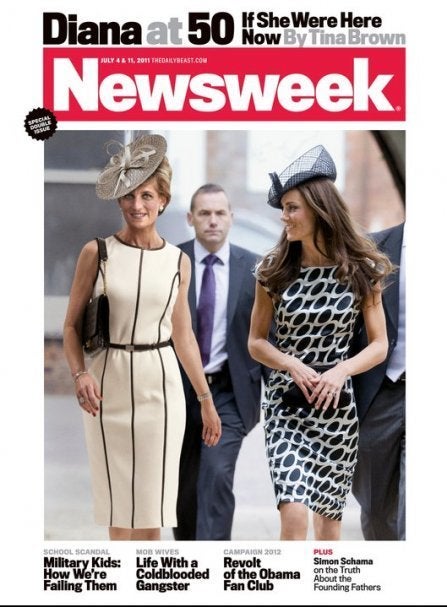 No -- you're not imagining it. Newsweek's most recent cover features a digitally-aged Princess Diana next to Catherine Middleton, and yes, Editor-In-Chief Tina Brown knows it's a little unconventional.
"Some people think it's kind of spooky, and should we have done it?" Brown told Joe Scarborough on today's "Morning Joe."
"And, you know, others think it's very effective," Brown continued. "I think it's very intriguing... I think it's sad. It's a saddening thing about Diana, because I think she would've very much been a woman of our time."
Brown's controversial cover has created "a huge amount of debate," going "absolutely viral" in the last two days, Brown says, but a media frenzy is hardly what she intended to generate. Rather, "The Diana Chronicles" author hoped to present a realistic depiction of who Diana would be today had she not been killed in a tragic car accident in 1997; Twitter account, Facebook profile (shown below) and all:
"I found it really interesting to imagine what she [Diana] would be doing now. The best way to communicate that was to put her in a situation where she's standing there with Cate Middleton. I wanted to make her a time traveler... A novel came out about how she was going to be living in suburbia and stuff -- I didn't see that at all. I saw Diana very much as being this kind of 'global mover-shaker' kind of a woman."

Diana was more than just a socialite, Brown notes, adding that she pioneered the practice of "leveraging the celebrity for the humanitarian stuff."
"She loved being in the limelight, but she also would've really sort of professionalized all that humanitarian giving that she was doing," Brown said. "She was actually one of the first to do that. She was pre-Bono!"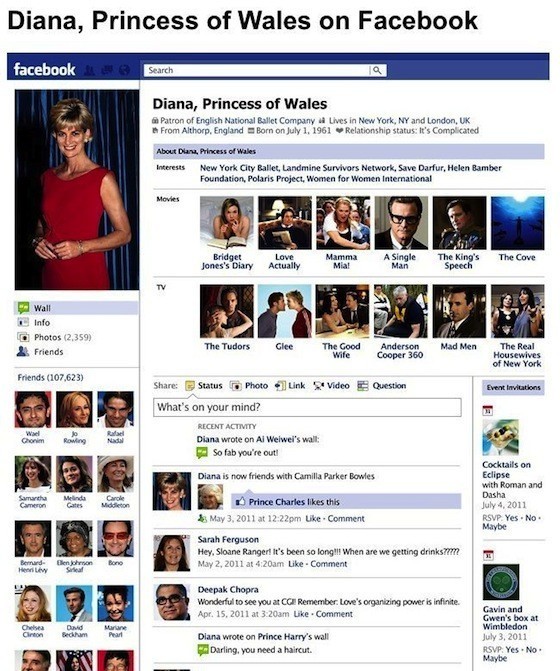 Popular in the Community