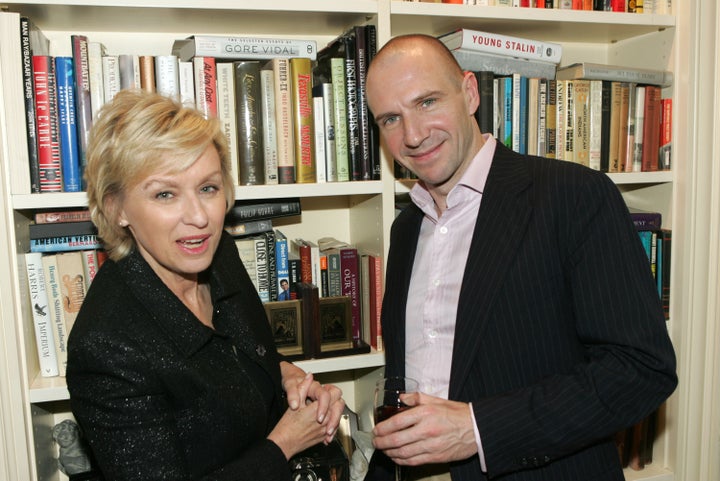 Daily Beast Editor Tina Brown had some advice for Journalism School students at Columbia last week: go to India! Speaking to a packed room as part of the school's Delacorte Magazine Lecture Series, Brown talked about her transition from print to online media, and assured students that a "golden age" of journalism would surprise skeptics in the future. Watch some of her remarks here.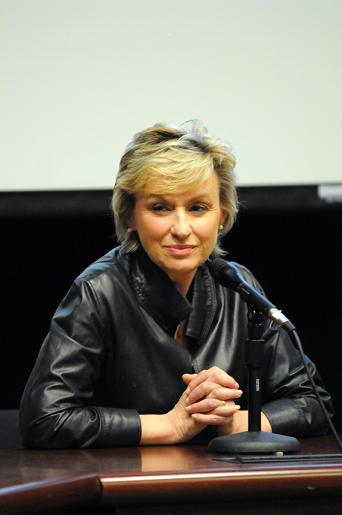 More from Columbia J school students:
In her defense of the new, Tina Brown is dauntless. Her description of the founding of her latest venture, The Daily Beast was notable for its simplicity. "Barry (Diller) came to me and said, would I like to start a news site that would act as a 'sensibility' guide to the news," she told the room. The fact that Brown had never worked on an online publication does not seem to have been a worry for her. In fact, Brown said that the essential component to an online news site is the same as that of any magazine: the 'reader' just has to admire the sensibility of the 'chooser'. Brown chooses the site content, we like Brown's choices. That's all.

It's exciting to Brown that online news sites are offering the chance to recreate forums of intellectual argument. Citing the British news-commentary magazine, The Spectator, Brown bemoaned the lack of intelligent discussion and smart, lively response to news in the current media. "In some ways, I feel that the web will revive that kind of 'little magazine' journalism, because recently there hasn't been a market for it," she said. The Daily Beast is Brown's way of contributing to that discourse; it's her own 'little magazine'. She mentioned the 2008 elections as an example of the way that kind of argument could be fostered online: "We had a raging dinner party going on between the left and right," she said. --Cordelia Jenkins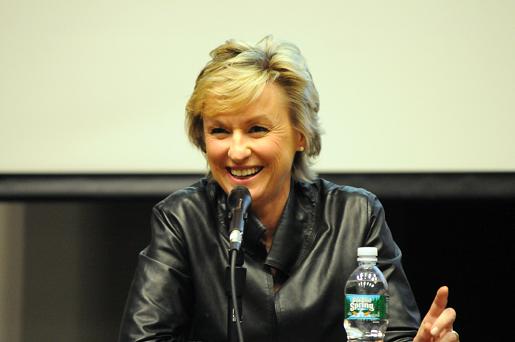 Brown also re-hashed the fate of her short-lived venture Talk. She emphasized that one of the problems facing monthly magazines was the lag between production and release, and the inability of print magazines to adjust quickly enough to criticism. The criticism spurs advertisers to pull out, which deprives magazines of the funds needed to fix the problems, which leads to more criticism. This is possibly why Talk reportedly lost $50 million before it folded, after opening with what was described as one of the most lavish launch parties in magazine history.

Brown rightly noted that the current concern over the closing of the foreign bureaus of many major media outlets was not necessarily a bad thing, as it could lead to the cultivation of local reporters who would have greater context for unfolding news than foreign reporters parachuted in from outside. She also noted that, "If I were young, I would go to India," and encouraged students to take advantage of the media culture there.
--Cara Parks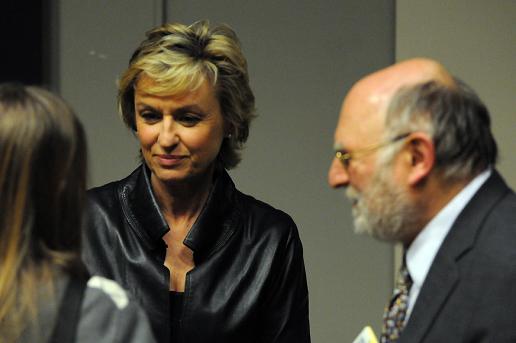 Praising the thriving Indian media scene and the work of Indian investigative magazine Tehelka, Brown said the title translated to "Bomb" in Hindi. Actually Ms. Brown, it translates more closely to "stir." Bomb in Hindi would be "bum" -- the same note that journalism is hitting these days and as a soon-to-be unemployed journalist and one of the aforementioned J-schoolers, launching into an imploding economy. I sat there, like a trained seal waiting for key words like "Jobs" "Internships" "Money" "Doom" to be tossed out at me. And she did -- in quick succession -- and not necessarily in that order.

Brown maintained her upbeat tone on the future of magazines, right till the very end, when she hit a high note. She said Newsweek's decision to cater to a smaller, niche audience, would just result in better journalism. As magazines fall by the wayside, she explained, there would be a natural selection of sorts, which would force the surviving mags to be more inventive and thoughtful, "less formulaic" she said and "more stimulating." Despite my cynicism, I will say Amen to that.
--Smriti Rao Hindupur
Photographs by Ben Chapman

Calling all HuffPost superfans!
Sign up for membership to become a founding member and help shape HuffPost's next chapter