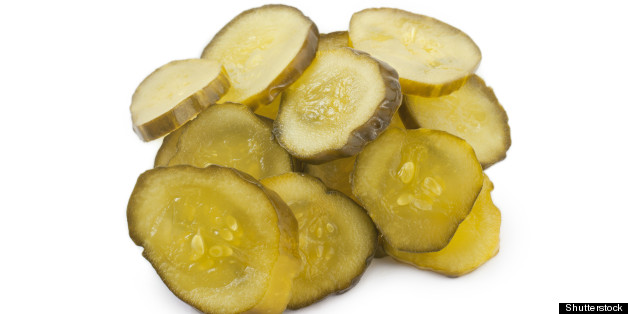 If you pick a peck of pickled peppers, this chick might punch you in the face.
Tina Drouin, 49, turned a little sour when a sandwich maker in Quincy, Mass. started piling pickles on her sub. She was charged with assault Saturday after allegedly punching the employee she said gave her "too much s--t," the Associated Press reported.
Police say Drouin ordered a steak and cheese sandwich from Nathan's Famous Hot Dogs at the Quincy train station around 2 p.m. Drouin then started yelling that the employee was putting "too many pickles" on the sandwich, according to a police report obtained by Boston Magazine.
She also started making "other derogatory comments regarding the preparation of the steak and cheese," the report states, according to CNN.
Drouin asked for a refund, and when the employee said no, Drouin allegedly punched her in the face and shoved "two large very heavy jars" of pickles at her. The jars shattered on the floor.
The woman allegedly tried to run off, but the Nathan's employee caught up to her and held her until police arrived. According to police, Drouin told them she was angry over the sandwich maker giving her "too many pickles."
REAL LIFE. REAL NEWS. REAL VOICES.
Help us tell more of the stories that matter from voices that too often remain unheard.
BEFORE YOU GO
PHOTO GALLERY
Mealbreakers