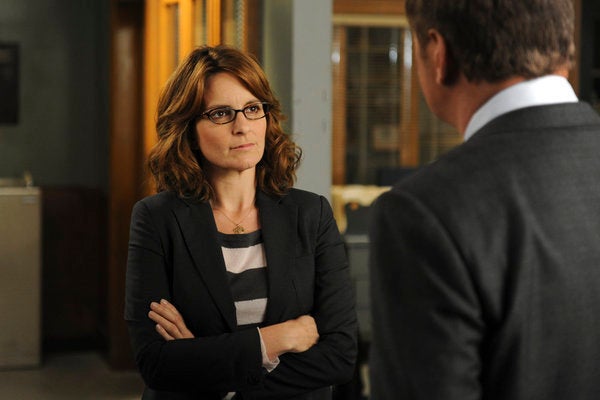 Tina Fey has yet to decide what the last words of "30 Rock" will be, but that's not to say she hasn't been brainstorming. It turns out inspiration could come from an unexpected place: "Here Comes Honey Boo Boo."
Fey has been hard at work wrapping up the final season of her Emmy-winning "30 Rock" (Season 7 premieres Thursday, October 4 at 8 p.m. ET on NBC) and to get some inspiration, she and the show's writers have been watching TV.
"We started having a conversation of what we wanted our final images to be," Fey told The Huffington Post on the red carpet of the "30 Rock" Season 7 premiere party. "It got really emotional, so we kind of backed off it. Then we said -- every day at lunch our writers take a little break and watch a TV show and most times it's 'Honey Boo Boo' or 'Breaking Amish' and I was like, 'Guys, maybe we should start watching some classic TV finales.'"
So Fey turned to another NBC classic: "Frasier."
"We tried to watch the 'Frasier' finale and one of our writers started crying when Frasier was taking his dad's chair out," she said. "He was like, 'I don't know what's happening to me!' So we're not talking about it. We're kind of afraid to talk about it."
The series has been home to many famous guest stars, from Jerry Seinfeld to Al Gore, but there is one actor who is currently eluding Fey.
"Oh my gosh, I've been on this line saying, 'No, I'm good,' but Tracy [Morgan] just said to me, 'Please, can you try to get Eddie [Murphy].' I was like, 'Oh geez, I don't think we can get Eddie; but alright, I'll think about it,'" Fey said when asked about guest stars. "He might be the one person who's too famous to get."
When "30 Rock" ends, Fey's taking pieces of the set with her. "I want to steal the big, giant 'TGS' sign in Liz's office, although I don't know where I'm going to put it," she said. "There's a lot of little things on my desk. I feel so comfortable in that fake office. Also a lot of the pictures on the wall, including a framed 'Bust' magazine of Amy Poehler, are really my things that I'll have to take with me."
"Me and Amy Poehler. 'Cagney and Lacey' reboot, but in space," she joked.
"30 Rock" isn't the only veteran NBC comedy ending this year. "The Office" will say goodbye after nine years on the air, and Fey said she doesn't know what the future holds for NBC comedies.
"I think they're certainly investing a lot of time and energy in comedy, which is great," Fey said. "I think Scott Silveri's new show -- he's a great guy -- and he's got 'Go On' and those guys really know what they're doing. Hopefully they'll build up a nice new crop of shows that in a couple of years I can come in and ride the coattails of."
The seventh and final season of "30 Rock" premieres Thursday, October 4 at 8 p.m. ET on NBC.