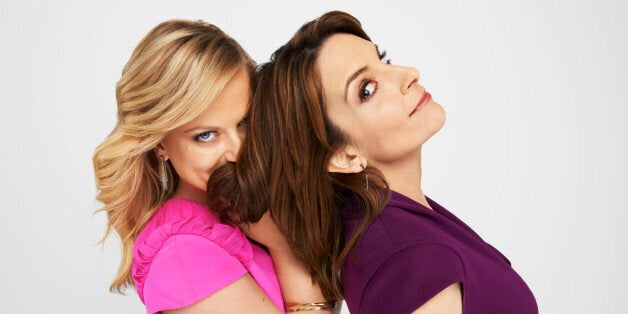 Satisfy your funny-lady fix with this definitive list, counting the 14 reasons you wish Tina and Amy were your BFFS. You're welcome.
1. They are an iconic duo, the kind of team you always want on your side.
2. Tina and Amy are devilish enablers. Hanging out with them is a guaranteed good time.
3. These ladies have balls. They're not afraid to look ridiculous on national television. Imagine singing karaoke or hitting the club with them.
4. There is no backstabbing between these friends. They're brutally honest with how they feel about each other. That is a crucial BFFAE quality.
5. Amy and Tina are straightforward -- none of that beat around the bush crap. They would make incredible wingwomen.
6. Your abs would be in great shape from incessant laughing.
7. Boredom would be a thing of the past. There is never a dull moment when this duo unites.
8. Basic bitches be gone. These ladies would always have your back.
9. You know those "frenemies" who roll their eyes and pretend like they don't know you in public? That'd never happen with Tina and Amy. Nothing embarrasses them.
10. They are unapologetic for kicking ass and encourage you to do the same.
11. They genuinely lean on each other for support.
12. Just think about all the hilarious Vines and Instagram posts you'd have.
13. Don't let their comedic sides fool you -- these girls have serious street cred. They are untouchable.
14. Their friendship remains tight after all these years. They are beautiful, crazy-successful, funny women who rule the universe. They are perfection.
Calling all HuffPost superfans!
Sign up for membership to become a founding member and help shape HuffPost's next chapter
BEFORE YOU GO
PHOTO GALLERY
Tina Fey & Amy Poehler's Golden Globes Looks