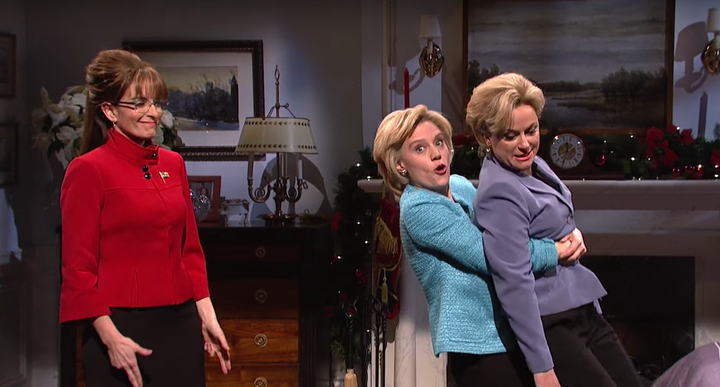 Tina Fey and Amy Poehler gave us something we've all been waiting for when they hosted "Saturday Night Live" this weekend.
On "SNL," the comedians/BFFs reprised their roles as Sarah Palin and Hillary Clinton. What more could we ask for this holiday season?
In one of the standout sketches of the night, "A Hillary Christmas," Kate McKinnon's Secretary of State Hillary Clinton comes face to face with Poehler's Hillary Clinton, circa 2008. 
The laughter of Poehler's Clinton wakes McKinnon up. 
"Is someone there?" McKinnon says. "I hear strong and feminine laughter." 
"Hillary! It's me, Hillary!" responds Poehler. 
The two exchange some small talk before Poehler announces that she's there to warn 2015 Hillary not to get her hopes up about the presidency. But, after calling Bernie Sanders a "human Birkenstock," 2015 Hillary assures her past self: "Mama's got this presidency in the bag." 
When 2008 Hillary finds out Donald Trump is the candidate to beat on the Republican side, she hits the floor before exclaiming, "We're going to be president!" 
Their celebrations are interrupted by Fey's Sarah Palin, also circa 2008, who thinks she "landed in the bedroom of a lesbian couple." 
"We're not lesbians, we're Hillary Clintons!" says Poehler, to which Fey responds, "Oh, you poor thing, I heard that after you lost you had to become a secretary." 
"Of state," the Hillarys reply in unison. 
Watch the whole clip below:
PHOTO GALLERY
Amy Poehler And Tina Fey Being Best Friends
Calling all HuffPost superfans!
Sign up for membership to become a founding member and help shape HuffPost's next chapter