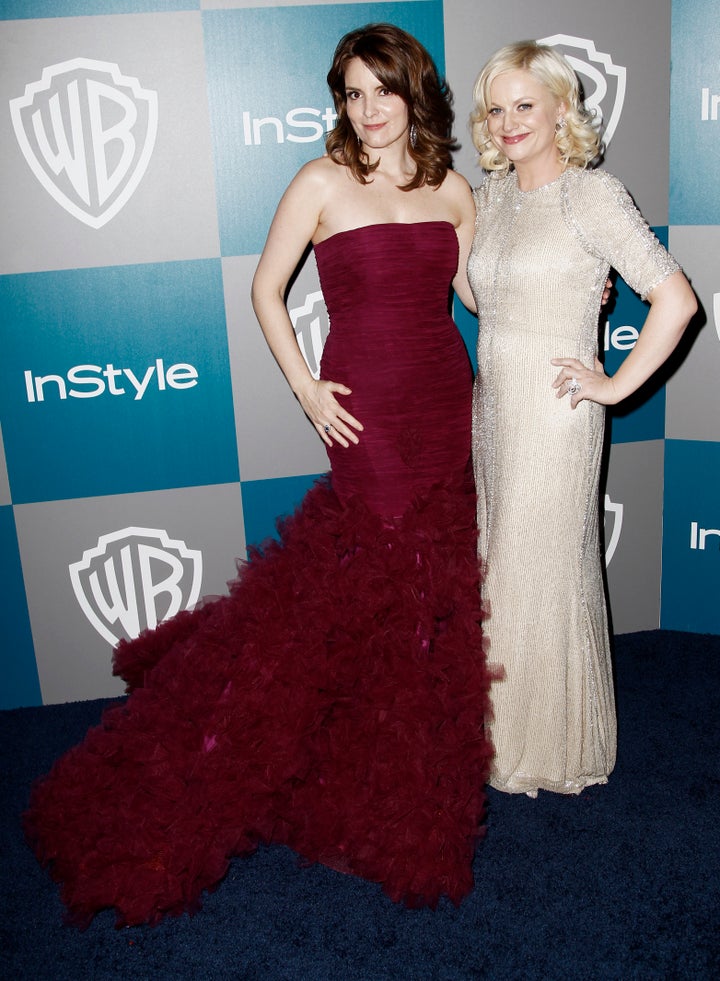 "HUMOR IS a reminder that no matter how high the throne one sits on, one sits on one's bottom," says the legendary High Life columnist Taki.
WELL, IT will be interesting, and a first, to have two women -- Tina Fey and Amy Poehler -- hosting the January 13 Golden Globes. But as delightful and talented as these women are, I wonder if some viewers are going to miss the less-than-delightful (to sensitive types) Ricky Gervais, who terrorized those seated at the GGs for the past couple of years.
Who knows, maybe Tina and Amy will be even more scathing? Women can dish it out, too. But Ricky has offered to help: "Let me know if you run out of Scientology gags."
REMEMBER when the Dixie Chicks attacked President George W. Bush? As a result, their career was temporarily sidelined, in danger of being terminated, in fact.
Today we are all fighting with one another and having hard feelings when our friends and -- even more so -- when our idols, don't agree with us politically.

But the ruination of a performer's career whether you agree with them or not -- nah, not so much! (I am not a believer in "let's boycott so and so company and/or this person" because of something said or done. I don't think trying to put a person or a business, out of business, is terribly American.)
I remember being shocked as a Democrat when I sat down to lunch with Tom Selleck and discovered he was a diehard Republican. But now when I see my old friend Tom, I just shrug. He is great in Blue Bloods. And we just happen to disagree. Same thing with Gerald McRaney, best known for his Simon & Simon TV series and his marriage to the luscious Delta Burke. Very conservative, but a real Southern charmer. We just stayed pretty much away from politics and got on like a house afire.
So when I learn that my own darling misguided Lindsay Lohan is a Romney supporter and the redneck "beauty pageant" child Honey Boo Boo is somehow supposed to be all for Obama -- it makes no never mind to me. (Though it makes a lot of sense. Lindsay and Honey seem to be approximately the same in emotional maturation, and a true understanding of the issues.)
We usually expect Hollywood to support the liberal candidate, but it's more evenly divided these days... just like the rest of the USA.
Anyway, how can I dare be mad at someone, even an idol of mine, who disagrees with me? It's happening all the time these days between me and my relatives, and between me and some of my very best friends.
So my advice: rise above it. Love Clint Eastwood, Jon Voight and Tim Allen and Robert Duvall. Adore George Clooney and Tom Hanks and Steven Spielberg. Keep them all right in your autograph book, or in your heart...
Vote however you like. Just don't judge others too harshly for their political beliefs. Differences are what make democracy go around.
We don't want to have a Civil War in the entertainment world -- not again! Rise above it!
WHEN BEN Affleck first appeared onscreen in Argo, I actually did not recognize him for a few minutes. He sports longish 1979/80 hair and a rather full, dark beard. But, then I realized it was indeed Mr. A.
Ben has gone through a lot of facial fuzz, this n' that, over the years. And New York magazine's "Intelligencer" hilariously charts the comings and goings of Ben's scruff and beard. It's a little too complicated to repeat here, but writer Amanda Dobbins did herself proud chronicling "The Hair of Ben" as his career rose and fell and rose again.
And I will say again --
Argo
, Ben's third directorial effort, is one of the best, most compelling, amusing, exciting movies of the year. I hope it is not forgotten come Oscar time. (It is doing nicely at the box-office, at the moment.)
I WAS feeling awfully proud of myself that I had already read the two historic Tudor times books Wolf Hall and its sequel Bring Up the Bodies almost before anyone else. Then, lo and behold the British novelist Hilary Mantel, just this week won the 2012 Man Booker Prize for the latter.
These books are about Thomas Cromwell, the aide to King Henry VIII and the man who helped send Anne Boleyn to the executioner's sword. So, if you like being "first" and don't we all, I now recommend my pals at PureWow Books & Authors. They will begin to give us a weekly guide as to what's coming in the world of reading.
They claim to be ahead of everyone with the new book-club picks and those non-fiction pieces everyone will be talking about. A gem will be suggested each week! They will also do author interviews, gift ideas, and bookish tech items. Signing up now, you get the chance to win a Kindle Fire and a $250 Amazon gift card.
"In honor of the new season of The Walking Dead I just ate my neighbor Keith." So says writer Justin Stangel.
Just the other, day I read that AMC's The Walking Dead, was that network's biggest hit. I asked my staff if they'd ever seen it? "I have," one of them piped up. "And how is it?" I inquired. "Zombies, Liz, zombies. Seen one zombie you've seen 'em all."
Simplicity in critique!
Calling all HuffPost superfans!
Sign up for membership to become a founding member and help shape HuffPost's next chapter