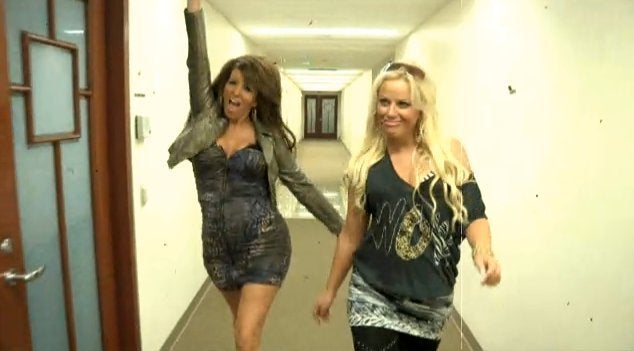 Somehow, "Late Night with Jimmy Fallon" topped their first installment of "Jersey Floor," their "Jersey Shore" parody, on Thursday's episode.
As Fallon explained to The Roots' Questlove as he encouraged him to get on an elevator to the mysterious floor, "You get on the elevator, there's this button that says Jersey Floor. You press it, you get off, you're transformed. Your hair is awesome. You're super, super tan. And your clothes are just amazing."
And while Questlove declined the offer, Tina Fey and Amy Poehler accidentally found themselves visiting the floor, joining the the normal cast of "Late Night" as well as ringers like Rachel Dratch and Abby Elliott, all "Jersey Shore"-ified.
Tina Fey is hosting "Saturday Night Live" this weekend, so it makes sense that she conveniently would be near Fallon's studio at 30 Rock to tape this sketch. (Her show, "30 Rock," is ironically produced outside of the NBC headquarters.) However, Amy Poehler's show "Parks and Recreation" tapes in Los Angeles. Does this mean that we'll see another Fey/Poehler team-up this weekend on "SNL"?
Popular in the Community