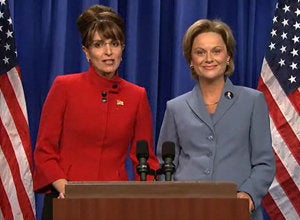 The Peacock felt gale-force winds beneath its wings this week on the Internet.
A trio of unrelated events conspired to give NBC Universal record traffic at three Web locations: CNBC.com, NBC.com and iTunes.
Instability on Wall Street this week made CNBC.com a prime destination, delivered the site's largest audience ever, according to internal data provided by Omniture.
It was Tina Fey's "Saturday Night Live" spoof of vice presidential candidate Sarah Palin on Saturday that gave NBC.com its most-watched viral video ever. The video not only topped past favorites like "D--- in a Box" and "Lazy Sunday," but managed to outdo copies uploaded to YouTube.
Users of Apple's popular digital storefront had no problem relocating NBC Uni's TV shows now that a new deal between the companies on Sept. 9 restored episodes. More than 1 million downloads for NBC Uni TV properties have been tallied since then, according to Apple.