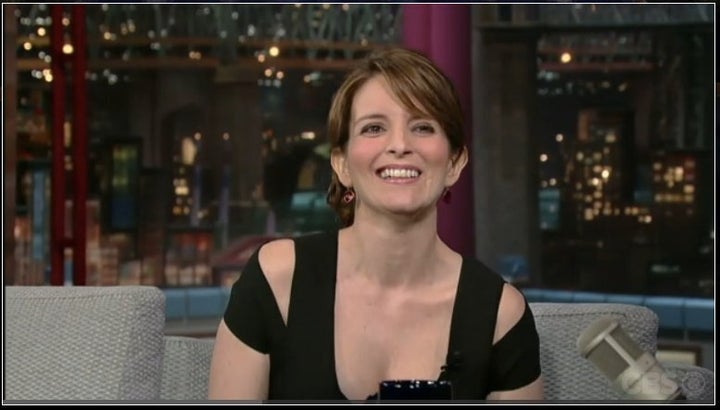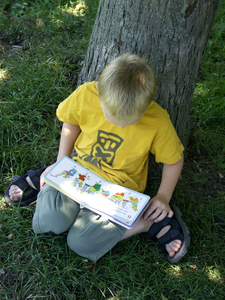 Last night after a long weekend with two of my boys and their families in Seattle, I got on the plane, ready to collapse from too many carb bombs (purple and green jello eggs, coconut bunny cake with whiskers etc). As I was stowing my stuff and my overstuffed body, a young man came by brandishing Tina Fey's new memoir Bossypants saying to his buddy,
"Im so stoked, I can't wait to read this!"
Tina Fey has crossed over!
For years, Hollywood marketing executives have wondered how to make girl movies palatable to boys. Generally, the theory is that girls will go to guy movies but not the other way around. Publishing executives, too, market their wares to the different sexes (young and old) and are careful not to present something as too girly if they want to sell a couple to the hunky sex.
Last week in LA, over 6000 people showed up to hear Tina chat about her book in Los Angeles. I don't know how it shook out gender-wise, but I heard there were rowdy young guy fans in the lobby waiting to get in.
Tina is also a TV and movie star of course so there is some of that. But it's her book that shines a light on how her own journey has not always been pretty or easy. She writes of herself as a misfit, a smart girl who perpetually felt out of it, and she undersells everything about her witty, clever persona. She is as much of an action heroine (OK, the action might be hiding out from cruise ship fires or preparing for a photo shoot) as a Hardy Boy ever was and I don't say Nancy Drew as she gets into scrapes a boy might be more likely to be in with bosses, dates, children and her parents that do not necessarily have a female twist.
Her core audience is women -- and empowering them to be who they want to be -- and that's great. But think about the ancillary possibilities.
I speak as an expert in this case: the mother of four sons. I spent a great deal of time as young mother reading book lists and trying to figure out what would be compelling enough to get my boys in off of the ball fields of various kinds (you name it, they played it) or later on trying to keep them from falling off faraway mountaintops or glaciers or into crevasses and losing their arms like James Franco in 127 hours which by the way I have been advised not to see.
I combed book lists compiled by critics, other mothers, my own friends. I faithfully read Publishers Weekly and the NYT Book Review for suggestions. I discussed with librarians. I took the boys with me to the library for as long as I could, and when they wouldn't come anymore, I would just leave sample suggestions on their beds. Now, I send them links to things, which often elicit scathing replies.
You can lead a boy to a book but you can't make him read.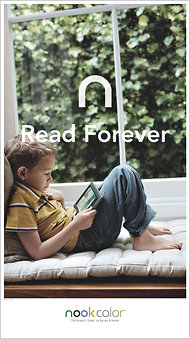 Don't tell me this sounds sexist because it's proven that girls read more, women read more and the ailing book business depends on us. We organize book clubs, share books we like, chew over things that mean something afterward. My husband does read but he does not discuss -- and that is half the fun.
This morning I saw this picture of a young boy cozy in a window with a Nook reader. The new series of ads debuting today actually use boys and the hope is clearly to show that boys and devices may be a better fit than boys and books. I'm down with that, I don't actually care how the images of Dr. Seuss and The Cat in the Hat and Moby Dick get into his head. Maybe the cool delivery system will help bring boys to reading. Since I spent the weekend with a three and a half year old putting the Joker into the Bat Cave about a hundred times instead of reading the vintage copy of Robert Louis Stevenson I had brought with me for him this seems like a no-brainer.
Maybe Tina Fey is the new Harry Potter! I sincerely hope so.
REAL LIFE. REAL NEWS. REAL VOICES.
Help us tell more of the stories that matter from voices that too often remain unheard.