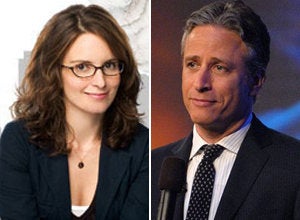 Tina Fey wrote the movie "Mean Girls," but in the latest issue of Reader's Digest she's playing the part in real life. In an interview with the magazine's Jancee Dunn, Fey disses "The Daily Show" and Jon Stewart, who she says makes audiences clap more than laugh:
RD: Do you see your humor as a gift?
Fey: I always think of everything from a mother's point of view now. Every kid has something they're good at, that you hope they find and gravitate toward. This is my thing. I don't think I was supposed to be a gymnast and accidentally landed on this.

RD: Do you still get that hit when you get a good laugh?
Fey: Absolutely. My favorite day at 30 Rock is Thursday, when the show airs. At lunch we screen the episodes. For everyone to watch together, to see the stuff we all worked on, to hear the crew laugh — it's great fun.

RD: What pleases you more, applause or laughter?
Fey: Laughter. You can prompt applause with a sign. My friend, SNL writer Seth Meyers, coined the term clapter, which is when you do a political joke and people go, "Woo-hoo." It means they sort of approve but didn't really like it that much. You hear a lot of that on [whispers] The Daily Show.
Read the entire interview here.
Related
Popular in the Community