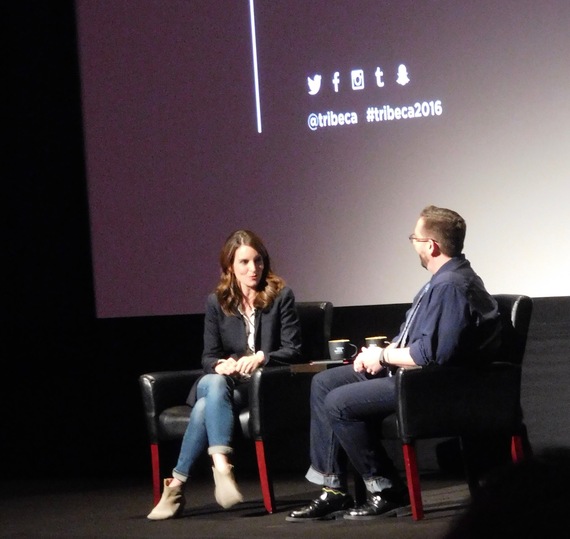 D: Do you ever drop into other TV show sets?
T: that I don't have permission to?
D: Do you want to direct?
T: I don't understand or really care about cameras
D: Where would you like to film that you haven't?
T: I'd like to film a music video inside the Statute of Liberty mouth.
D: favorite place to film?
T: the closest to my apartment
D: What's a rude response?
T: "Thanks for noticing"
D: Is Jane Krakowski your muse?
T: I guess so...10 years now...we're in a "comedy common law"
D: Any plans for another book?
T: [joking that nobody asked] Should I call Verizon? Maybe Modern Family and the book people are trying to call me at the same time.
D: Then you did Baby Mama
T: Sure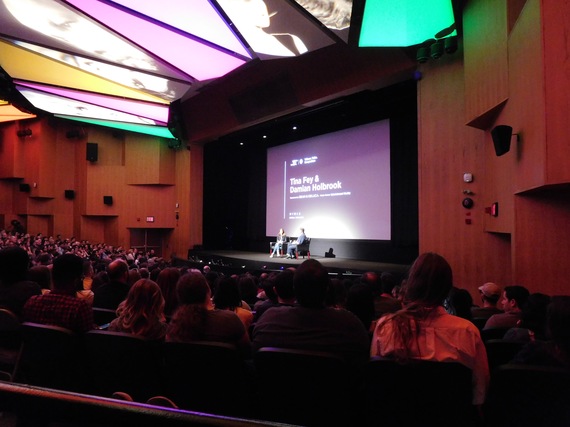 Tina worked in a costume shop with Holbrook's brother. They used to glue things onto costumes together. These two go way back. I don't know exactly how long because Tina Fey said "150 years"...which obviously isn't true....unless....
She sings Hamilton songs to Mean Girls for fun (ex. "How does a mathlete...chess nerd....")
When she first started on SNL she was under the impression new actors could be treated like new toys. SNL wanted to fix--err, style, her hair. She did not wear wigs on Weekend Update.
"I don't sing well"
She enjoys making Harvard TV writers who don't laugh at anything, laugh. "a nut to crack"
Her and Amy Poehler both have type A personality, probably couldn't do an entire TV show together. Tina was not on Parks, but Amy was on a LIVE 30 Rock episode. So was Kim Kardashian.
In the early days, Tina and Amy had their own improv show. Tickets were $75. She noted stripping would be easier.
Speaking of stripping, Tina Fey can't believe Long Island City has not developed yet. She filmed some of Kimmy Schmidt there, across from a strip club that doesn't serve alcohol. "Who is that for?!" Tina asked rhetorically.
She is blessed Kimmy did not get pregnant while filming. She is pregnant now, the plan is to work on the musical until she's good to go for Season 3.
Zootopia is the last movie she saw.
She enjoyed her role in Kimmy Schmidt Season 2 because she loves the characters she writes. It's important for her to love the characters because she spends so much time with them. Therefore, she enjoyed the opportunity to "play the person who gets to try to help her in this messed up way because I love her."
She changed her Emmy voting status to vote for People vs. OJ Simpson.
Often, women over 40 are not even offered the rundown housewife...they are only offered roles as a "witch." Think Meryl Streep, Into The Woods, which Tina Fey tried really hard to be cast in.
Tina Fey thinks "Greenpoint is really cool"
Tina Fey lived in New York since 1997
She once chased Countess LuAnn down the street to say hi.
Tina Fey uses social media to lurk/search specific jokes to see if they gained any traction. She sometimes reads the comments on things she wrote, but not what she starred in.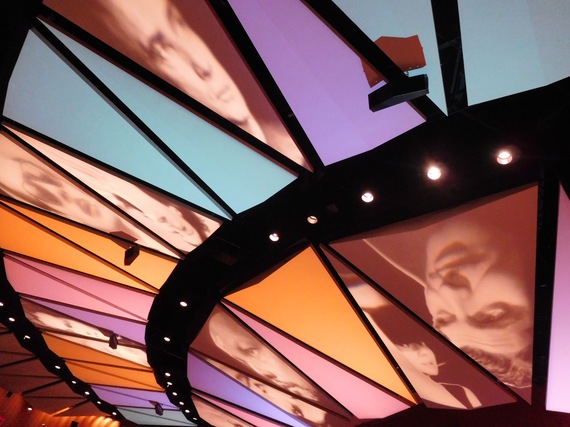 The SMASH sign still exists in all its glory.
Tina Fey regrets one thing, not inviting the cast of SMASH to her Golden Globe party when she hosted with Amy Poehler.
I had a great time at this TriBeCa Film Festival Event. If you get a chance to check one out, definitely do so. Can't get enough women in comedy? Tune into AOL BUILD tomorrow at 2:15pm to catch Julia Louis-Dreyfus and Matt Walsh LIVE in the studio chatting Veep.
REAL LIFE. REAL NEWS. REAL VOICES.
Help us tell more of the stories that matter from voices that too often remain unheard.