Democrat Tina Smith was sworn in as a U.S. senator for Minnesota on Wednesday, replacing Al Franken, who officially resigned on Tuesday.
Smith, who has served as Minnesota's lieutenant governor since 2015, is filling the seat Franken vacated after facing multiple allegations of sexual misconduct in the final months of 2017.
"I am grateful to Minnesotans for giving me a chance to serve our state and our nation, and I am proud to have worked on their behalf," Franken wrote.
After Franken announced his decision to resign in December, Dayton said he planned to appoint Smith to fill the seat. Michelle Fischbach, a Republican who currently serves as president of the Minnesota Senate, is slated to replace Smith as lieutenant governor, as dictated by the state's constitution.
"Tina Smith is a person of the highest integrity and ability," Dayton said in a statement. "There is no one I trust more to assume the responsibilities of this important office. I know that she will be a superb senator, representing the best interests of our state and our citizens."
Along with Smith, Democrat Doug Jones was sworn in Wednesday as Alabama's new U.S. senator. Jones, 63, won a special election in December against Republican Roy Moore, who was battered by allegations he preyed upon teenage girls decades ago. Republican Jeff Sessions vacated the seat in early 2017 to become President Donald Trump's attorney general.
The Senate's partisan breakdown now stands at 51 Republicans, 47 Democrats and two independents who caucus with the Democrats.
Smith, 59, has indicated she will seek to hold onto her seat in a November special election. Franken's term would have expired in January 2021, and the special election will allow Minnesota voters to choose a permanent replacement for the remainder of the term.
"Though I never anticipated this moment, I am resolved to do everything I can to move Minnesota forward," Smith said in a statement in December. "I will be a fierce advocate in the United States Senate for economic opportunity and fairness for all Minnesotans."
With Smith's swearing-in, Minnesota joins New Hampshire, Washington and California as the only U.S. states represented by two female senators. The state's other senator, Democrat Amy Klobuchar, has said she plans to run for re-election this year.
If Smith emerges as the Democratic nominee in November's special election, her Republican opponent could be Rep. Michele Bachmann, who has said she is considering a Senate run. Former Minnesota Gov. Tim Pawlenty also has been mentioned as a possible GOP candidate.
In Alabama, Jones' seat will be up for election in 2020.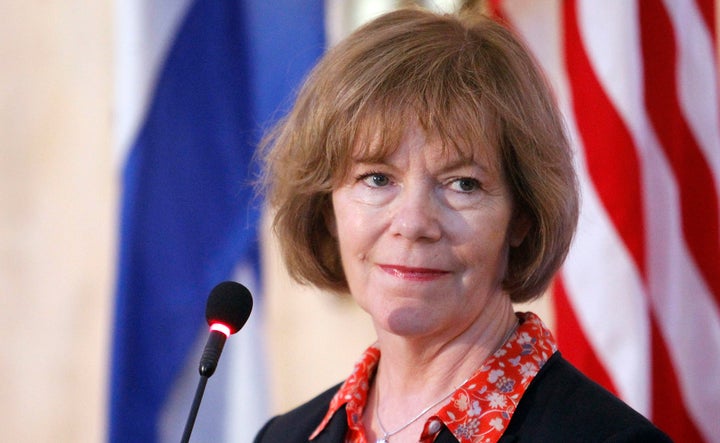 Calling all HuffPost superfans!
Sign up for membership to become a founding member and help shape HuffPost's next chapter