When Nick Aull, a junior at Tufts University, organizes parties for his fraternity, it's not just his friends and frat brothers he's worried about keeping happy. He also has to satisfy Tinder, a popular mobile dating service that launched last fall.
On a mission to win over teenage and 20-something users -- a group glued to their smartphones and coveted by Internet firms -- Tinder has hired a roster of undergraduates, including Aull, to promote the app on college campuses, report back on how students perceive the service and throw parties that will boost Tinder downloads.
Aull is one of two Tinder "campus reps" in the college hub of Boston. His job, he explained, is simple: "I'm in charge of bringing new kids to the product."
Staid Fortune 500 brands, like Microsoft, Target and Hewlett-Packard, have long hired undergraduates to serve as brand ambassadors, while up-and-coming social networking sites could traditionally rely on their novelty and web know-how to help them gain a foothold on campuses, then spread organically from there.
But Tinder, a Los Angeles-based startup that received seed funding from IAC, isn't taking any chances, and youth marketing experts say the last year has brought an uptick in small startups, like Tinder, seeking college students to plug their services. Uber, an app for hiring car services, also has a campus rep at Tufts, Aull notes.
"When you talk about the college consumer, it's the most cluttered marketplace with the lowest attention span," said Vishal Sapra, senior director of brand development at Mr. Youth, a marketing firm. "If you're not being told by a friend on your campus about an app -- or whatever product it is -- you're probably not going to get the traction or awareness that you need."
Tinder's meticulous efforts to woo college-age users underscores a prevailing wisdom among startups: attract them, and you'll attract everyone. Undergraduates -- social media-savvy, eager to try new offerings and seen as in-the-know early adopters -- will bring with them their younger siblings, older peers and, eventually, their parents.
"If you think about it, college students live in a highly social environment," explained Tinder co-founder and chief marketing officer Justin Mateen in an interview earlier this year. "We used them as a starting point to see if the product resonated with them. If it did, then we knew it would work for everyone."
Tinder's app offers a matchmaking service that connects individuals by having them flip through photos of other singles located nearby, each of whom they must "like" or "pass" in order to see the next potential date. If two users both "like" each other, Tinder lets them know they've made a match, then allows them to message each other via the app.
From the beginning, Tinder has placed an emphasis on targeting and attracting younger users. Tinder's creators launched the app at the University of Southern California by throwing a birthday party for a co-founder's college-age brother and his friends. The guests had to show they'd downloaded the app, and downloads jumped from 400 users on the first day to over 4,000 by the end of the first week.
Currently, users between 18 and 24 years old make up 68 percent of all Tinder users. (Tinder declined to share its number of active users but said the app has seen over 75 million matches and over 6 billion profile ratings.)
Tinder wouldn't specify how many campus reps they've hired, but Mateen told The Huffington Post in April that the company seeded the Tinder app at approximately 10 college campuses when it debuted. "We believe in top-down marketing, so we went to highly social people and had them promote it to their friends and it grew from there," he said.
Aull, an economics major who belongs to the Theta Delta Chi fraternity, said that in the semester he's been working as a campus representative he's thrown four Tinder-themed events. A Tinder spokeswoman said Tinder does not pay for its reps' events, though it will in some cases provide Tinder-branded apparel. Aull isn't being paid to promote Tinder, but he'll be joining the young company as an intern later this summer and said there are "non-financial benefits" to serving as a rep.
"We had a Valentine's Day Tinder party at my fraternity," he recalled. "It was a really large party -- there were probably 200 or 300 people there -– and to get in, you had to have the Tinder app on your phone."
In addition to hosting parties at his fraternity, Aull has partnered with a Tufts sorority to throw events, and he's even organized a Tinder mixer at a Boston University sorority with the help of a young woman he met through the app. He says he aims to to attract "opinion leaders/social influencers" who might not have considered an app like Tinder before, then turn them into advocates for the service.
Aull described his Tinder-themed events as "classier" cocktail party affairs, with occasional prizes for people who find matches and free drinks for people over 21. The typical party has certain guidelines for its guests that ensure Tinder gets maximum exposure and, of course, maximum downloads.
"It could be a party where you find your date through Tinder and you have to have that date come," Aull explained. "Or it could be a party where you have to have Tinder just to get in."
Aull maintains his efforts have been paying off: He estimates 40 percent of Tufts undergraduates have downloaded Tinder's app, and that 80 percent of the school's Greek population uses the service. He said girls from other schools have used Tinder to invite him to their formals (he declined because he has a girlfriend). And over at Harvard University, people are "really, really into it," he said.
"Fraternities at Harvard would have Tinder parties where they would get all their girls from Tinder," Aull said. "My guess would be that a lot of Harvard people maybe feel a little isolated from the average student in Boston and Tinder provides a means for people to connect at other schools."
Aull says the app has spread because it offers an antidote to a "claustrophobic" social scene, where people run into the same friends over and over again. But aren't there an endless number of social events on college campuses where people can meet, from lectures and seminars to school-sponsored study breaks to room parties?
Tinder makes meeting people more efficient, Aull said. And besides, with Tinder, there's no fear of rejection: You only know when you've been "liked," not when you've been "passed."
"It's a way to meet new people without being creepy," he said. "And it's a confidence-booster for a lot of people."
CORRECTION: An earlier version of this article mischaracterized Tinder's relationship with IAC. The Internet company gave seed funding to Tinder but does not own the app.
Before You Go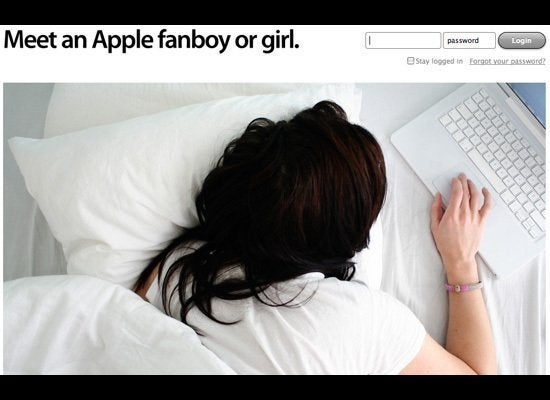 Strangest Dating Sites
Popular in the Community