Tinder has some strong words for people who post profile photos with tigers: Stop posting them.
But in a recent blog post on Tinder's official site, the dating app requested that members of its community remove any photos posed with tigers, lions and other big cats due to the exploitative nature behind the scenes of the pics.
"Posing next to a king of the jungle doesn't make you one," the blog post begins. (That's some grade-A shade, Tinder.)
"It's time for the tiger selfies to go. More often than not, these photos take advantage of beautiful creatures that have been torn from their natural environment," Tinder said in the July 28 blog post. "Wild animals deserve to live in the wild. People for the Ethical Treatment of Animals (PETA) says now is the time to rid the platform of tiger photos in honor of International Tiger Day on Saturday July 29th, and we could not agree more."
Tinder's blog post came after PETA penned a letter to the app's founder, explaining that while tiger-featuring photos may seem harmless, the tigers usually face cruel conditions behind the scenes. The cats are often caged, tied down or drugged to get that perfect profile pic for tourists.
Though PETA asked Tinder to ban tiger selfies entirely, the app has yet to do that, but Tinder did pledge to donate $10,000 to Project Cat ― a partnership between the Discovery Channel and World Wildlife Fund to protect tigers and their habitats.
And what about all those other exotic pics with elephants and wild animals you see everywhere on dating apps and social media? The living conditions for those animals are likely just as depressing, said Ben Williamson, PETA's senior international media director.
"If you can hug, ride, or take a selfie with a tiger, elephant, dolphin, or any other wild animal, chances are that the animal has been abused," he wrote on Quartz on Friday.
Up to 550,000 wild animals are suffering in these tourist spots and approximately 110 million people "unwittingly visit wildlife tourist attractions each year, oblivious to the animal abuse involved," Williamson explained.
Long story short? While you may feel like more of a catch because you posed next to a big, dangerous cat, these days, your matches may be more and more inclined to say, "Sorry, tiger, not happening."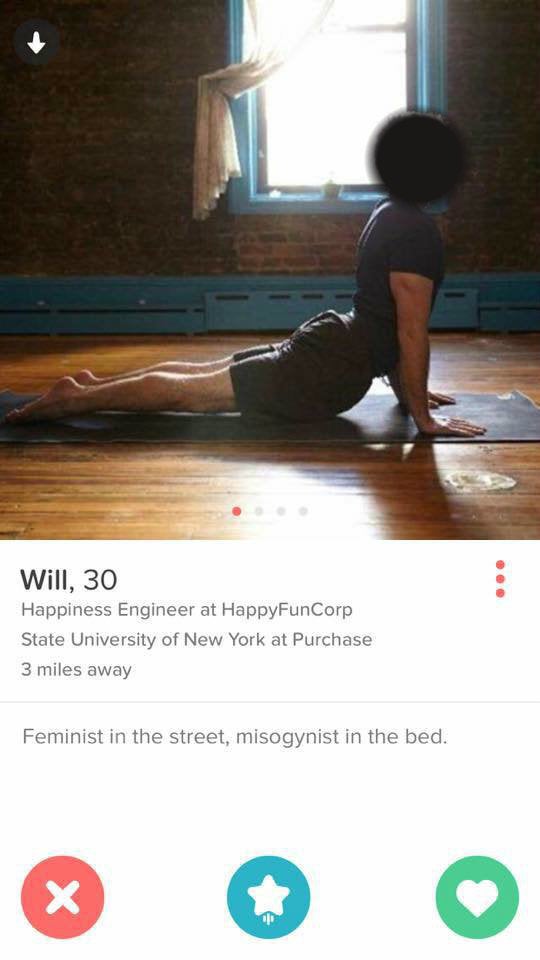 Male Feminists Of Tinder Tumblr