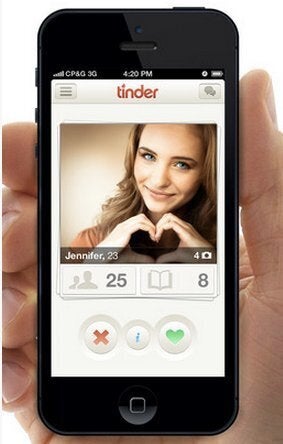 It seems many people still falsely assume that women are not interested in casual sex -- an outdated notion that is painfully obvious in the world of hook-up apps. Women reportedly make up 36 percent of dating app users, yet their needs are practically ignored by the market (perhaps because only 19 percent of software developers are women). But it seems like one app finally understands that there are plenty of women interested in hooking up with the help of technology: Tinder.
Tinder, which has reportedly matched 75 million people since its launch last October, connects with a user's Facebook profile to find other users nearby. People can then like or dismiss potential matches based on their photos, and are notified when someone they find attractive likes them back. Only once users are mutually matched can they message each other.
It may sound superficial, but it seems Tinder actually caters to women's needs better than any previous hook-up app. Here are five reasons why Tinder is succeeding with women where other dating apps did not:
1. You can avoid rejection.
"If you're someone who's hunting for a relationship, there's this constant sense of rejection when not everyone you want to meet is open to meeting you back," Tinder's CEO Sean Rad told Business Insider on July 1. But Tinder avoids that, as the app only connects users who have expressed mutual interest. This is specifically appealing to women because, no matter how empowered we consider ourselves, we're arguably still socialized to wait for the people we're interested in to ask us out -- a social expectation that can be hard to shake. Tinder allows us to advocate for ourselves and what we want with the security blanket of knowing we are protected from even having contact with people who aren't interested in us.
2. It's an ego boost.
While some claim that judging potential matches based solely on looks is superficial, many female users feel less objectified by the app than they do flattered and self-confident. One Tufts University sophomore told The Huffington Post this past April that her peers use Tinder "more as an ego boost-type situation than a dating situation or a way to connect with people." In a world where women are surrounded by messages that make us feel bad about ourselves and our bodies, it can be a really positive experience to have real people affirm our attractiveness. It's less a shallow indulgence than it is a harmless way to combat negative body image.
3. You can avoid the "creepers."
A common refrain amongst female dating-app users is how frustrating (and sometimes, disturbing) it is to receive messages from creepy strangers. As Katie Dries of Jezebel recently noted, "The fact that the only people who can message you are people you want to get messages from is especially appealing, given how dating sites like OKCupid let anyone contact you, upping the creep factor."
Of course, Tinder (like the rest of the world) is hardly free from creepy guys -- in fact, a tumblr was recently created for the sole purpose of documenting women's weird encounters on Tinder, modeled after a similar, OKCupid-centric tumblr. But the fact that you select the people who have access to you serves as an extra security measure. Plus, it's a serious time-saver.
Rad also recognized that Tinder has to "do a better job" of allowing users to specify if they're interested in meeting someone who has transitioned from female to male or vice versa. While this doesn't exactly indicate that Tinder designed their app with gay and transgender users in mind, it's encouraging to see a mainstream, successful app vocally commit to making their product more friendly to the LGBT community, especially when "gay-specific" dating apps like Grindr, Bender and MISTER have heavily catered to gay men.
5. It's fun!
While some women take issue with the casual way in which users are prompted to flick through the photos of potential matches, others see it as an entertaining game. As Jezebel's Katie Dries observed: "The way Tinder allows you to scroll through people (and reject them) takes big advantage of the fun ability to swipe on a smartphone. To get rid of someone you're not interested in, you simply swish them out of view."
Rachel Ellicott, a Tinder user and sophomore at Cornell University told The Huffington Post back in February, "People don't think of [Tinder] as online dating, they think of it as a game." In this way Tinder works as a sort of fantasy game ("what if I were to hook up with this person?"), or, as Bianca Bosker notes in the same Huffington Post article, a high-tech version of the high school sleepover game "f*ck, chuck, marry." And really, what's the harm in ladies having a little fun with the help of technology?
Related
Popular in the Community