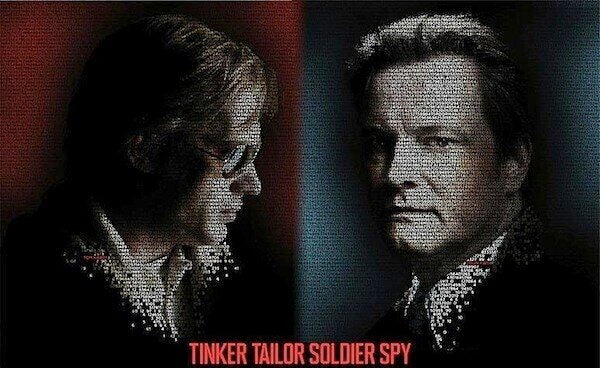 "Right here, right now, it's the film to beat at this year's festival." Xan Brooks of the Guardian has spoken, and we're inclined to nod violently in agreement. "Tinker, Tailor, Soldier, Spy" is the British thriller directed by Tomas Alfredson that has been resting in back of our minds for months. Originally a novel by John Le Carre, the film smartly places Gary Oldman as its protagonist working to identify a mole at the top of the Circus -- the highest level of the Secret Intelligent Service -- leaking secrets to the Soviets in 1970s London. Along for the ride are a strong stable of British actors including Colin Firth, Benedict Cumberbatch and Tom Hardy.
At the Venice Film Festival, the critics confirm what we had all dared to assume without having seen it -- this film is a superbly well-acted, visually stylish thriller that is standing at the head of the line for awards season. Critics, take it away:
Xan Brooks for the Guardian: "... a marvellously chill and acrid cold war thriller from Swedish director Tomas Alfredson. Right here, right now, it's the film to beat at this year's festival." Grade: 4 out of 5 stars
Leslie Felperin for Variety: "John Le Carre reportedly once said, 'Seeing your book turned into a movie is like seeing your oxen turned into bouillon cubes.'Maybe so, but in the case of helmer Tomas Alfredson's version of 'Tinker, Tailor, Soldier, Spy,' the result is best likened to a perfectly seasoned consomme. An inventive, meaty distillation of Le Carre's 1974 novel, pic turns hero George Smiley's hunt for a mole within Blighty's MI6 into an incisive examination of Cold War ethics, rich in both contempo resonance and elegiac melancholy."
David Gritten for the Telegraph: "... it's possible another film may soon emerge to spearhead Britain's assault on the coming awards season. But after the world premiere here at the Venice Film Festival of Tinker, Tailor, Soldier Spy, it would be a huge surprise... the film is a triumph. It's packed with superb British actors, all at the top of their game, with the lengthy book skilfully condensed into just over two hours of riveting narrative."Grade: 5 out of 5 stars
Matt Mueller for Thompson on Hollywood is not quite as enthusiastic: "Fans of the genre will finger the culprit early and without that added layer of suspicion, the big reveal is left feeling perfunctory, almost blase. Minus that last cathartic gasp, Tinker Tailor Solder Spy settles for being a very good as opposed to a superb spy thriller."
Chris Tookey for the Daily Mail: This beautifully modulated piece of underacting deserves to make him [Gary Oldman] a strong contender at next year's Oscars... This is a mature film in the European rather than Hollywood mould -- a character drama as much as a thriller, uncompromisingly aimed at grown-ups. As such, it may disappear from cinemas more speedily than it deserves."
Dave Calhoun for Time Out London: "This spy story is all about the journey - the process - and the byways of the route, not the grand finale. This film's superb cast, script and direction threaten to make that journey equally as thrilling as Le Carre's book." Grade: 4 out of 5 stars
Deborah Young for The Hollywood Reporter: "It is one of the few films so visually absorbing, felicitous shot after shot, that its emotional coldness is noticed only at the end, when all the plot twists are unraveled in a solid piece of thinking-man's entertainment for upmarket thriller audiences."
Oliver Lyttelton for The Playlist: "Few films here at Venice had such high expectations beforehand, so it gives us great pleasure to report that 'Tinker, Tailor, Soldier, Spy' is, on first viewing at least, incredibly rich and perfectly constructed, sitting with 'The Conversation' and 'The Ipcress File' in the very upper reaches of the genre." Grade: A
"Tinker, Tailor, Soldier, Spy" will be released in the U.S. on Dec. 9.
Popular in the Community