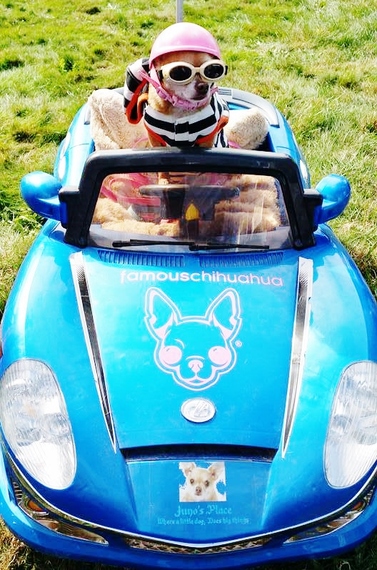 Tell us about Juno and the work you do together.
As far as Juno knows, she's a little person, not a dog. During a visit to grandma in the hospital, I quickly realized that Juno had a way with patients, so the Chihuahua with a big heart began visiting senior centers and hospitals, spreading good will and smiles. She became a therapy dog with Paws for Friendship and is a Paws to Read dog, where she goes into libraries and children read to her to build self-confidence. Juno's calm demeanor and gentle disposition make her the perfect ambassador and trusted friend.
I work to promote spay/neuter programs and meet with children and try to teach them respect and kindness towards animals, and hopefully they will learn kindness and respect toward each other. Juno's Paw-it-Forward project collects supplies for a school where 98% of the students live at poverty level. In 2014, Juno raised $1,000.00 for the American Cancer Society Relay for Life. Last year we did a fundraiser and brought Christmas in August to five-year-old Grayson Hand of Sturbridge who has leukemia. This year we did another fundraiser and took his older sister to an American Girl store and let her be princess for a day because often she has to be so understanding of her little brother's needs.
Rumplepimple has met many dog advocates, and your Facebook following is among the largest. Why do you think she has so many followers?
Juno's Place is not just about bringing awareness to various animal causes; it's also about spreading happiness. Juno keeps a sense of humor and has a good time while getting a point across. What other dog can talk about BSL, spay & neuter, and many hot topics, while driving a race car with helmet and doggels, or wearing a dress while ordering pizza for dinner?
We get many comments that say Juno is a bright spot in their day. They are going through a divorce, taking care of a sick relative, or have just lost someone, human or animal. Many suffer from depression and they all say that Juno made them smile. People have come to meet us from Ohio, Florida, North Carolina etc. and told us we were on their bucket list. Things like that make you feel very good about what you're doing.
How did Juno end up being featured in the Famous Dogs of Facebook coloring book for adults, which raises funds for charitable causes?
Neal Wooten contacted me and asked if we would do the book, and If I could recommend some friends, and I did... like Gizmo, Piper and a few others.
Tell us about Private Citizens for Pets in Peril.
Private Citizens for Pets in Peril is not a shelter; we don't take in or adopt out animals. We want to unite the public through a common love of animals and promote awareness about animal rights through education and community projects. Abuse of animals isn't something that happens in other states or countries; it's right in your city.
Is there a connection between animal abuse and domestic violence?
I created the "Speak Up" campaign in December 2014, showing a connection between animal violence and human violence. The shocking number of cruelty cases reported in the media is only the tip of the iceberg. Most cases are never reported. Scholarly studies of the prevalence of animal cruelty in domestic violence cases reveal a staggering number of animals are victimized by abusive partners each year.
Twelve separate studies have reported that between 18 and 48 percent of battered women, and their children, delay leaving abusive situations in fear for what might happen to their animals. Women who do seek safety at shelters are nearly 11 times more likely to report that their partner hurt or killed animals than women who have not experienced domestic abuse. A study found that batterers who abuse pets are more dangerous and use more violent and controlling behaviors than those who do not harm animals. Abusers don`t often stop with their primary victim, they hurt anybody they can in the home. Police officers see this evidence when they respond to 911 calls. If more people dial 911 when they suspect animal abuse, not only will an animal be protected, but the police will have the opportunity to uncover more domestic violence cases. Cross-reporting requires law enforcement and social agencies to collaborate in investigations. In some states animal protection agencies must also report suspected child abuse, and child protective services must also report suspected animal cruelty.
What was your most memorable event with Juno?
Recently we were invited to The Dog Wedding movie premiere: Juno's photo is in the opening credits! We got to walk the red carpet before the movie with one of the movie's stars; Matthew Bloom. Last year at Rock & Shock we got to spend a lot of time with Dee Wallace Stone. She took a real liking to Juno and carried her around. Of course Juno had no clue who she was, but I did and it was pretty cool.
But the most memorable event would be bringing Christmas to little Grayson, and seeing his eyes light up when he saw Santa. His older sister Sophie was so excited. The most memorable things are when we know we have changed someone's life or opinion. I get to know that I made someone smile. I get to know I may have saved an animal's life or been the last loving person that animal saw before it passed. I get to know that I am part of something huge.
Thanks Juno and Deb, for reminding us that we can all be part of something huge.
Calling all HuffPost superfans!
Sign up for membership to become a founding member and help shape HuffPost's next chapter