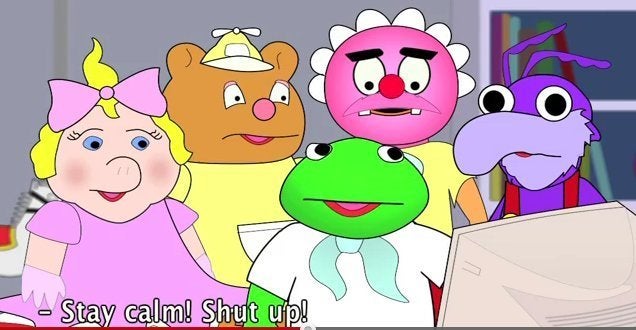 Unauthorized knockoffs of popular products, especially foreign knockoffs, have a long history of barely making sense. (Not all ripoffs can be as successful as China's fake Apple Stores, unfortunately.) But Tiny Fuppets, a web series from the mind of Scott Gairdner, a writer for Funny or Die (and Family Circus parodist), is a rare instance of an of intentionally crappy knockoff that is wonderfully bizarre without being too winking or self-aware. In fact, upon first glance it's unclear whether Tiny Fuppets is a real foreign knockoff or an intentional joke.
Ostensibly a Portuguese series modeled after the '80s cartoon "Muppet Babies," Tiny Fuppets is a crude, barely coherent but nonetheless hysterical bastardization of Jim Henson's creations. Starring doppelgangers such as Kormit, Ms. Woman and Animanuel, "Tiny Fuppets" also has the bonus of an elaborate backstory constructed by Gairdner, which includes a blind creator and an extensive Fuppets movie franchise.
In this first clip, Tiny Fuppets "creator" Arturo Lima explains the genesis of Tiny Fuppets. In the second, a Fuppets episode, the gang makes a website about their friendship, and win a very prestigious award for it. With the new Muppets movie right around the corner, Tiny Fuppets is a perfect counterpoint to the barrage of advertisements we're sure to soon see.
WATCH: History of Tiny Fuppets.
Calling all HuffPost superfans!
Sign up for membership to become a founding member and help shape HuffPost's next chapter