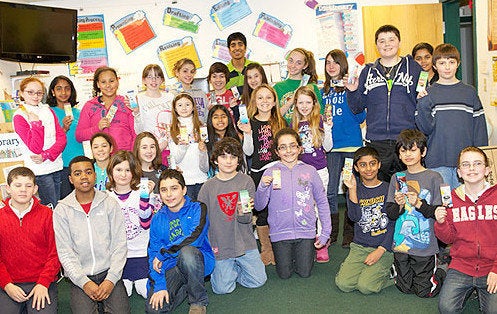 This is part of our series "Gen: Change," in partnership with Youth Service America, featuring stories from the 25 most influential and powerful young people in the world.
"Don't waste your food, Dylan! What you are wasting is sometimes all that a family can get for a whole week." I grew up hearing my mother say this to me at our dinner table, time and time again. Although I remember being served what my mother referred to as small, right-sized portions just for me, dinnertime was a nightmare. My mother would never fall for my negotiations, so bargaining for bites was never an option. The last thing I wanted to do was finish those vegetables on my plate, but at three years old, I seriously wondered how I could get the food on my plate onto the plate of someone else who needed it. I remember being careful not to take more than I could eat, and I became adept at recognizing the internal cues that told me when I was hungry and when I was full.
At the age of eight, I witnessed first-hand on a family trip to India the realities of poverty. I saw families struggling with the daunting task of finding food for their kids. I saw a six-year-old girl, Madhvi, working in a brickyard, molding earth into bricks. Instead of being in school, Madhvi was working for a living, right beside her parents. I learned that Madhvi's grandfather had borrowed 6,000 rupees ($120 USD) from the landowner and his debt changed the lives of his future generations, who are forced to work from dawn to dusk to repay his loan. It was heartbreaking to learn that Madhvi has been working tirelessly from the very young age of four, in appalling conditions in what appeared to be a futile attempt to pay off her grandfather's debt. I remember being overwhelmed with emotions that are difficult to describe even today. I recall feeling angry, frustrated, sad, lost, and utterly helpless. I felt embarrassed and guilty for being a picky eater, for wasting food, and complaining to my parents even though I had everything that I could ask for to live a happy, healthy, normal life.
At the core of the problem was the fact that Madhvi's parents appeared to have accepted that it was simply a fact of life for Madhvi to work. Madhvi was compelled to work in the brickyard with no access to safe drinking water, sanitation facilities, safe shelter or much-needed healthcare. Madhvi's tiny hands looked like they had bled from cuts. Her hands were rough and calloused from molding and carrying tons of bricks, pressing them into place, and removing the excess mortar between them. She was working barefoot on blistered feet, with her body covered in dust, in the midst of ear-splitting noise all day, sometimes for as many as 12 or 14 hours a day. Madhvi was not the only child I saw working in the brickyard that day. Several six to eight-year-old children were working, standing all day on tired little feet, laboring away with their tiny hands in the scorching sun. Most people in the brickyards were convinced that the children with their supple little fingers were best suited for the job, and their parents did not have the tools and resources to break themselves out of the vicious cycle of poverty. It was apparent that the children were working despite being unwell. I could hear frequent coughs echoing in the yard. "We have to work even if we have a fever, stomach pain, diarrhea or injuries," said Madhvi's mother.
I also met Sumathi, 13, who was working as an 'ayah' (nanny) for an affluent family. Her monthly salary was abysmally low. Her monthly income of 1200 rupees ($23.50 USD) is less than the family whose children she cares for will spend on dinner in a night. It made me sick to learn this because this was less than what I spent on movie tickets in a month! I realized how fortunate kids in my school were, and I realized how I had taken many of the things in my life for granted: my education, my health, my family and more. Sumathi has never been able to attend school. She never had the opportunity to acquire any skills that could provide her with a chance at other types of employment. She had no hope of escaping poverty, no hope of acquiring the skills and opportunities she needed to break out of her poverty. Without the ability to progress, Sumathi was simply resigned to spending her life working as an ayah with no hope for a better future.
It was during this trip that I could fully comprehend the reason behind my mother's constant encouragement to not waste food. I was barely nine years old and I seriously wondered if I could really do anything, even something small, to brighten the future of children like Madhvi. I remember brainstorming with my sister about wanting to do something to help Madhvi and Sumathi when we heard the news about the 2004 Indian Ocean earthquake and tsunami. I have family and friends living in several countries in Southeast Asia who were affected by the tsunami and I got first-hand accounts of the devastation caused by it. I did not understand much about tsunamis, or how to watch for warning signs, or how to protect people when they live in earthquake-prone areas. I was at a loss for what to do. I wondered how I could use technology, one of my major interests, to try to help these people. I decided to gather a group of kids from different schools so that we could build an educational website about the effects of the tsunami and use it as an avenue to raise funds to benefit the tsunami victims. Over the next several weeks, we worked remotely, without ever meeting anyone else in person, tearing down the barriers of distance, language, culture and technology to build the website. During the first week alone, we raised $900, and when our website went live, we contacted several organizations to promote our work and to help us reach out to kids all over the world. To my absolute surprise, over the next few months, kids over the world came together to raise $780,000 for tsunami relief.
Our success, leveraging the collective power of youth using the Internet, assured me that age will never be an impediment to making a difference. This is what inspired me to start Lil' MDGs with the goal of unifying the giving power of youth using the Internet and social and digital media to forward the UN Millennium Development Goals (MDGs). With the formation of Lil' MDGs, we have raised funds and resources to free thousands of children from bonded child labor. With the training, mentoring, tools, and resources we have been able to provide Madhvi's family, they are now proud owners of a tea stall that helps them provide for their family. We provided Sumathi, a creative young woman who was interested in tailoring, with the training and skills she needed to operate a sewing machine. We set her up with the inventory she needed to get started and Sumathi is now successfully turning her ideas into income.
I never imagined that my parents' incessant nagging about not wasting food and our family trip overseas would be such transforming experiences for me. After working on a variety of initiatives in different parts of the world, in 2008, I heard the story of Joseph Koyie in Loita, Kenya who had to overcome extraordinary obstacles to obtain an education. Joseph's dream was to build a school for his community. I was fascinated with the motivation of the community to make themselves sustainable, and Lil' MDGs partnered with Under the Acacia to bring Joseph's dream to fruition. I was honored to assume the role of Chief Strategist of Under the Acacia to generate sustainable initiatives such as the Loita Hills Academy that further community development and growth.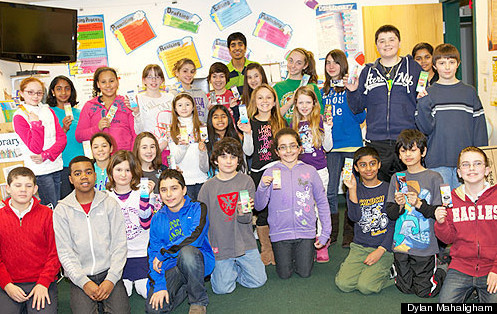 To get involved, contact dylan@lilmdgs.org
Related
Popular in the Community