When faced with the stresses of living the typical busy life, it's nice to fantasize about getting away from it all. Perhaps an escape to the middle of nowhere, in a simple home that isn't filled with screens, distractions and clutter. Sounds nice, doesn't it? While most of us leave that fantasy right there, one New Zealand couple has decided to make that dream a reality.
Enter Wayne and Anita, who recently gave a tour of their mobile tiny home (it was once a furniture truck) to the Living Big In A Tiny House web series. The house was specifically designed for optimum space, featuring all the usual features of a microhome. There's a lofted bed, an extremely compact kitchen and a small heat source. However, we left one thing out of this list: A toilet or shower.
Wayne explains that this was a deliberate omission made while planning the home, so the couple could carve out a little more space. Instead, they use a portable outdoor toilet that has its own tent. However, this structure has blown away in the past, so they often make sure to park near appropriate facilities.
While this is a trade-off that would make even experienced campers shy away from this particular arrangement, Wayne explains that it really isn't so bad. "It's incredible, you know, how much we're conditioned to feel we need all these things," he says." But it's also incredible how quickly you can adapt."
Six months in, the couple says they haven't been happier. The main benefit seems to stem from having to accept a slower pace. "[It's] a big change, in a culture that demands us to often to be so stressed, in our relationships, in our work, everything we do has to have that degree of busyness, so we're sort of doing the opposite," Wayne says.
Before You Go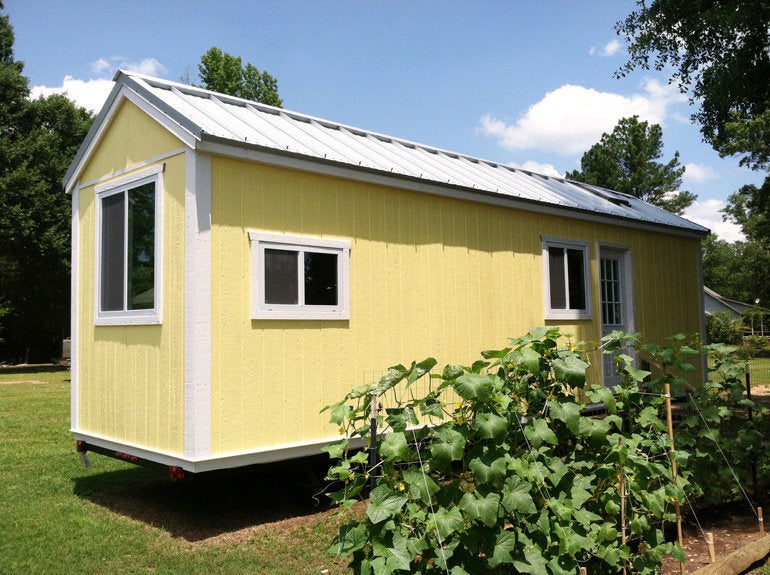 20 Of The Tiniest Homes In The World
Popular in the Community