Every year the toys at the American International Toy Fair in New York get a little bit smarter, and this year did not disappoint. Crayola has infused augmented reality into its new products, robots are now considered toys and Nerf guns can keep track of scores with RFID-capable smart darts.
This year there is also a trend towards embedded sensors, bringing to life a new type of toy that can more fully interact with kids. Here are four sensor-enabled toys that are driving exciting new play patterns.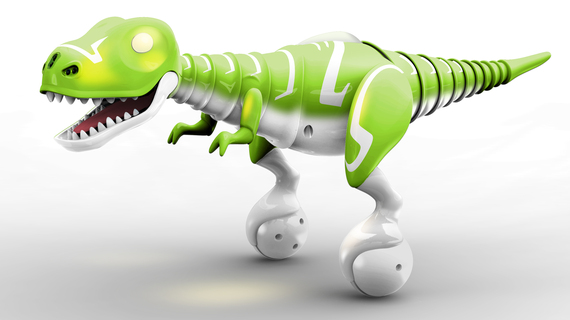 Last year's pet dog Zoomer from Spin Master Robotics was a huge hit, winning Innovative Toy of the Year as well as our hearts. This year they've upped the ante bringing to life a robotic pet dinosaur who balances and wheels around on two feet.
Put Boomer into guard mode with the egg-shaped remote control and he chomps and swings his tail around. For more interactive play, he can be guided by the sensors in his face. Move your hand in front of him and he'll follow you, taking direction based on your actions. His color-changing eyes let you know what kind of mood he's in -- don't be surprised if he starts dancing.
You can see a video about Boomer here:
Boomer is for ages 5 and up and will be available in the fall for $99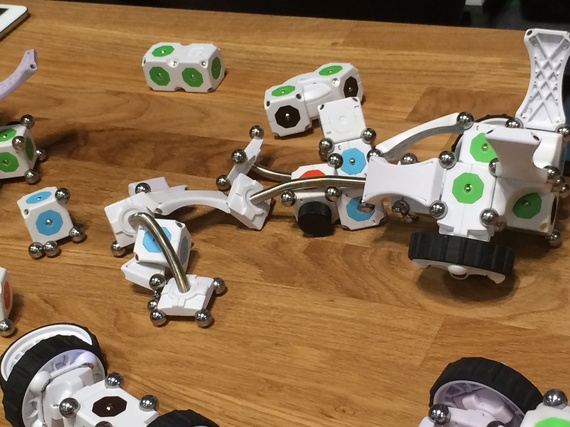 Robots are all the rage among kids and adults. Robots you can build and program yourself are becoming easier thanks to embedded sensors.
Moss is an innovative robot construction kit that uses magnetized blocks and carbon steel ball bearings to transmit power and data throughout a structure. Certain blocks provide power, others give off light or respond to sound. You control what you want your robot to do, by putting together the color-coded blocks. This kind of experimental fun can keep a kid entertained for hours.
There's no need to understand coding or soldering, kids can build robots that drive or spin, and then undo them and make something completely different. You can control some of the functions with a wave of the hand in front of the sensor, or by attaching a knob to a block.
Moss will launch (in April) with a core starter kit that will retail for $149, and you can buy additional kits to add on. It reminds me of a Lego creation where you can build what the kit is intended for, or mix and match the bricks with other sets and create anything your mind can imagine.
Watch a video of how Moss works here: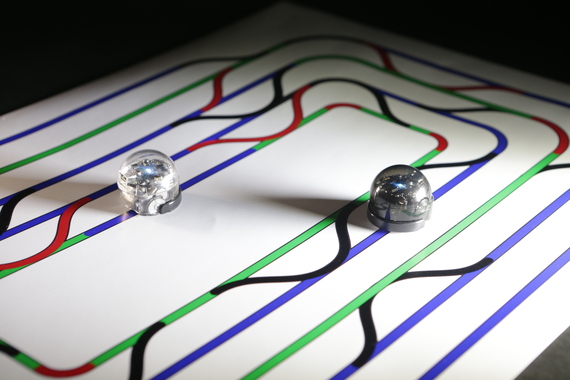 Ozobot is a cute, pint-sized robot -- no more than an inch tall -- that can recognize and react to over 1,000 different digital commands thanks to the tiny optical sensors on its underbelly. It's programmed to follow lines on either a physical or digital platform and execute the commands it encounters along the way.
If you can draw it, Ozobot can run it, whether it's on a pre-made template, or you can design your own. Using either a finger or a stylus, you can drag and drop the color-coded commands onto a line and watch Ozobot spin, race forward or turn a color, depending on the specific code. Watching Ozobot move along the line is actually quite entertaining and even though some game-play apps will be included at launch, you can see how kids will want to design their own unique paths and challenges for Ozobot.
The tiny robots, which will work on iOS and Android devices, were hatched on Kickstarter and are in production now with a launch date of Fall 2014.
Watch a video of Ozobots in action here: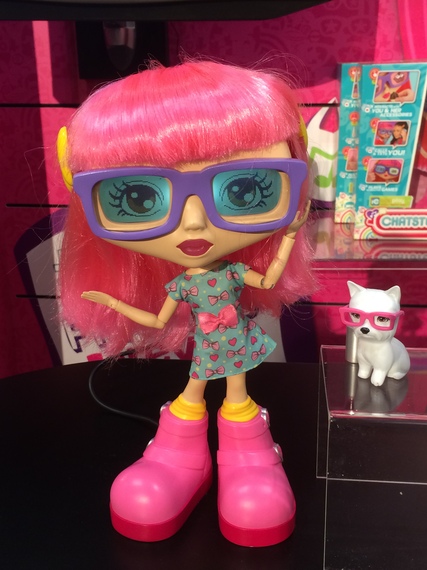 Chatsters are poised to become a girl's new BFF. At Toy Fair I chatted with Gabby, Spin Master's newest interactive doll. She's got bright pink hair and big pink shoes and comes with interactive accessories. She can talk and move, responding to questions and commands with the help of her touch sensor glasses. I just loved that they were funky looking and purple, but the secret sauce is actually a pair of LED screens and sensors that make her aware of your interactions.
You respond to her questions by tapping her glasses, causing her to do silly things like make googly eyes at you or suggest that you dance. If you put lipstick or eye shadow on her it will recognize it and show the color. Using the free Chatster mobile app you can send her text messages on her phone, just like a real BFF.
Watch a short video here:
REAL LIFE. REAL NEWS. REAL VOICES.
Help us tell more of the stories that matter from voices that too often remain unheard.