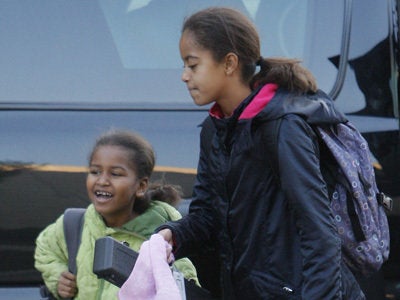 What do ten-year-old and seven-year-old girls want more than anything? Aside from meeting the Jonas Brothers, that is.
If the Obama girls are anything like I was at their ages, they want cool bedrooms where they can hide from their parents, have private conversations without siblings listening in and host sleepovers for every Chicago friend they ever had, and all their new ones, too.
Because we green types like to hang all our hopes for eco redemption on the children of the world, we naturally decided that their rooms should also symbolize our collective hopes for a greener future. So, herewith, our suggestions for eco-minded, sleepover-friendly bedrooms:
First, the walls. Most eco-friendly paints have muted colors -- earth tones and pastels -- because the more color you add, the higher the level of volatile organic compounds and fumes. Benjamin Moore has developed a proprietary formula for waterborne colors, used in its Natura and Aura lines, that add absolutely no VOCs to paint, allowing them to create a broad spectrum of colors from pretty pinks (which would match the cute Happy Critters organic cotton bedroom set from Pottery Barn Kids) to older-sister-appropriate purples and greens that would match this PBK reversible organic cotton quilt. Paints start at $49.99/gallon, and the PBK duvets are $129 and $125 respectively.
They'll undoubtedly cover some of that paint with a poster or two of the Jonas Brothers, but they can also add a personal touch by spelling their names out with letters made from recycled maps -- something we at National Geographic certainly endorse -- made by a Colorado artist named Gail Winters and sold on Etsy.com. Girls Malia's age are crafty and creative enough to make their own decorations using old vinyl records, wrapping-paper tubes and just about anything else their minds can conjure up. American Girl Magazine has no shortage of ideas for DIY projects for kids.
Then, tie it all together with a Flor area rug. One of our favorite companies, Flor, makes some of its products out of recycled material and even takes them back if your friends happen to spill too much of their chocolate sundaes, or if you need to move out after four, or eight, years in office. Plus, their really cool carpets and area rugs are held in place with stickers rather than high-VOC, formaldehyde-emitting adhesives.
If they still need throw pillows and other bric-a-brac to keep their rooms colorful, here are a few of the Green Guide's favorites:
-K Studio hemp and organic cotton throw pillows with quirky handmade designs ($98-$124; www.kstudio.com)
-Vivaterra hand-knitted Stuffed Owl made by women in rural Kenya ($67; www.vivaterra.com)
-Vivaterra Horizon Night Light made from recycled glass ($33; www.vivaterra.com)
-The Container Store Newsprint Bins made of rolled up recycled newspapers ($9.99-$19.99; www.containerstore.com)
-Recycled "Powerpuff Girls" Game Board Journal ($17; worldofgood.ebay.com)
-Monkeybiz beaded folk-art dolls made by a community of more than 450 South African bead artists who invest profits back into community services, including an HIV wellness clinic and weekly soup kitchens (www.monkeybiz.co.za)
Related
Popular in the Community