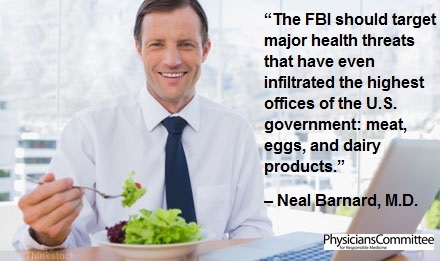 The FBI is combating a deadly enemy: bad health. So the agency is now requiring its agents pass an annual fitness test that includes sit-ups, push-ups, and running. But the program is missing some key intelligence that in my opinion will ensure the mission's success. Here's a clue: nutrition.
The agents must also target major health threats that have even infiltrated the highest offices of the U.S. government: meat, eggs, and dairy products loaded with saturated fat and cholesterol. These are the very foods that the put the safety of all Americans at risk for obesity, heart disease, diabetes, cancer, and Alzheimer's disease.
Health problems stemming from overweight aren't the only dangers the FBI is facing. After 9/11, "some agents put on weight, while some suffered from anxiety and depression," according to the New York Times article about the fitness test.
A plant-based diet helps mental health, too. Earlier this year, we published GEICO findings showing that a dietary intervention in the workplace alleviates symptoms of anxiety, depression, and fatigue.
Of course, my plan doesn't require an act of Congress. The Physicians Committee's Food for Life Employee Wellness Program includes elements from the GEICO study: simple nutrition classes in a supportive group environment and plant-based options in the cafeteria.
Along with GEICO, several other companies have already participated in the program, including the Whirlpool Corporation, PEPCO, Sony Pictures, the U.S. Departments of Justice and Transportation, NASA, and the U.S. Postal Service.
Related