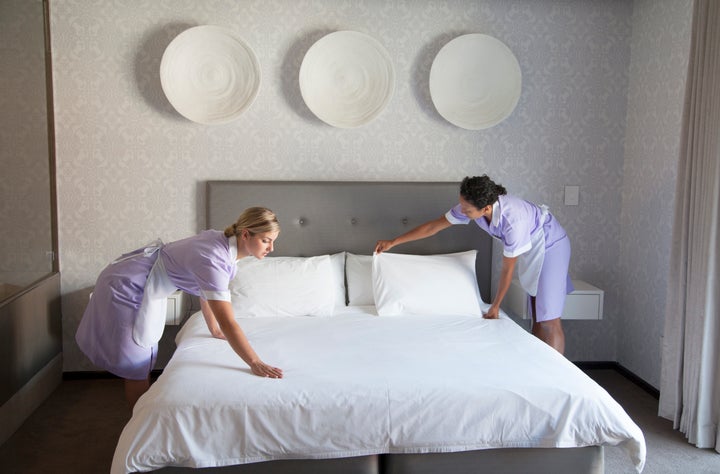 There are two types of people in the world: Those who tip well and those who don't. You know which one you are.
But thanks to all the confusing tipping situations that exist, even well-intentioned tippers can appear cheap. That's especially true at hotels, where you could easily interact with a dozen staff members in a day, all with different but important roles dedicated to ensuring you have a comfortable stay.
Fortunately, the American Hotel and Lodging Association put together a handy tipping guide for all hotel services. Here's a look at how to properly tip hotel staff so you don't end up looking like a jerk.
Housekeeper: $1 to $5 per day
Housekeepers are responsible for performing some of the most grueling physical work at hotels. It's not unusual for a housekeeper to clean 15 or more rooms a day, according to Unite Here!, a union that represents more than 100,000 hotel workers throughout the U.S. and Canada. To meet the demands of the job, they often work off the clock, skipping meals and bathroom breaks.
They're not just vacuuming and fluffing pillows. Housekeepers have to clean up the godawful messes you leave behind (you know what we're talking about). And not only is the work hard ― it can be dangerous. Working alone in strangers' rooms can put housekeepers at risk of sexual harassment and assault.
Despite all this, housekeeping staff members are often shortchanged when it comes to tips. Remember, just because they're often out of sight doesn't mean they're not putting in the work. So be sure to leave a few dollars each day. The AHLA suggests putting the cash in an envelope with a note so it's clear it's for housekeeping.
Shuttle driver: $1 to $2 per person or $4 to $5 per party
If you take advantage of your hotel's complimentary shuttle service, you should tip the driver for taking the time to get you to your destination safely. A couple bucks will suffice, though if you have a large group, consider upping your tip appropriately.
Valet/parking attendant: $1 to $5
It's usually customary to slip the valet attendant a couple of dollars when your car is returned. However, considering these workers only earn $9.30 an hour on average, the quality of the service you receive could be greatly influenced by some extra cash up front. So to make sure your baby is handled with care, consider handing over a tip along with your keys.
Bellstaff/porter: $1 to $5 per bag
The hotel staff that's responsible for lugging your belongings to and from your room should be tipped a dollar or two. However, if they're tasked with hauling particularly heavy luggage or take the time to show you the amenities in your room, your tip should reflect the added service. Tip when checking in and checking out.
You don't need to worry about tipping when the person attending the door points you toward the best nearby cafe or bar. However, if they assist you in hailing a taxi or unloading luggage, it's a good idea to tip a couple of bucks.
Think of the concierge as your personal assistant. Their job is to offer exemplary service and can do everything from recommending local attractions to booking dinner reservations. As such, a tip is appreciated, and it should reflect the complexity of your request; think $5 for booking a table for two and $10 for scoring tickets to a sold-out show.
You can either tip after each service or offer a larger lump-sum once your stay is over, but you're most likely to get star treatment if you show your appreciation along the way.
If you need help getting the cable to work or fixing a leaky faucet, there's no need to tip the staff. But if you call in a special request such as extra towels or a phone charger, you should give some gratuity. The AHLA recommends $2, plus another $1 for additional items.
Room service, server or bartender: 15-20 percent
Finally, you should tip anyone serving you food and drinks the same way you would at a regular restaurant or bar. If you order room service, check to make sure there isn't already gratuity added. If not, tip 15 percent of the bill for adequate service and up to 20 percent for exceptional service. The same goes for servers and bartenders.
Before You Go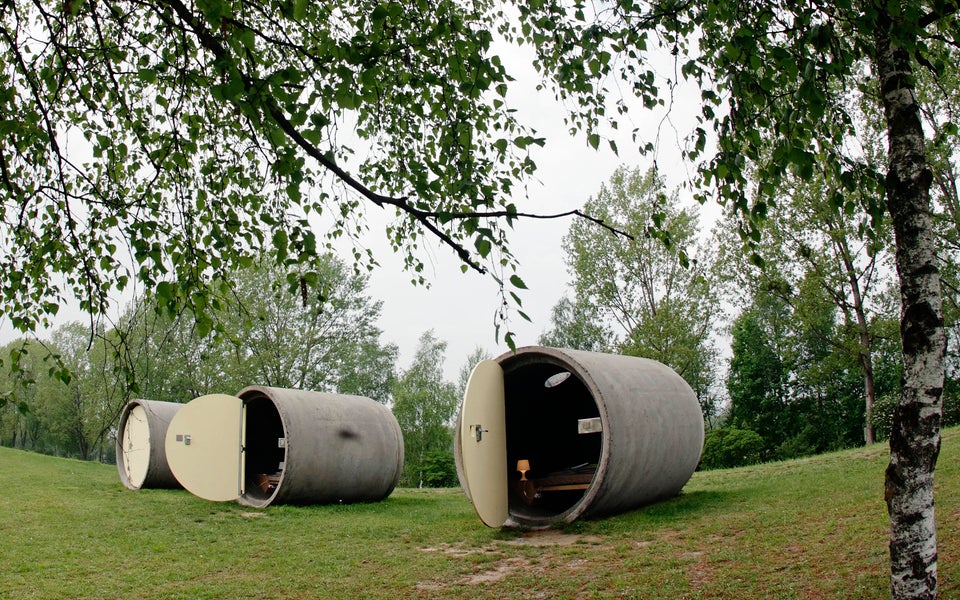 Unusual Hotels Around The World