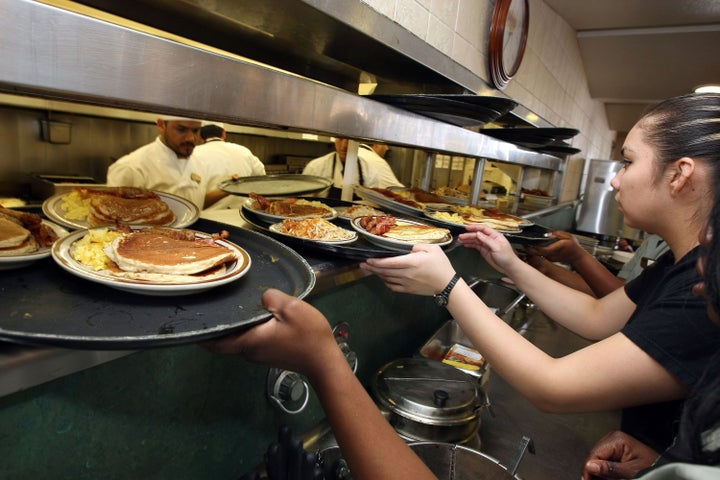 A bill introduced in Rhode Island's legislature this week would prevent restaurants and hotels in the state from pocketing portions of the "service fees" that many customers wrongly assume go to workers.
The bill, H 7566, would make it a misdemeanor carrying a fine of as much as $1,000 for an employer to require a service worker to share with the house a certain percentage of the automatic gratuity attached to a tab.
The inclusion of "service fees" is a common practice at many hotels, country clubs, sports stadiums and other venues. Critics of the practice argue that customers are misled into believing the fees are purely a gratuity for employees, when in reality the employer often keeps a large percentage.
The bill's sponsor, Rep. Christopher Blazejewski, says the legislation is modeled on similar laws in Massachusetts, California and New York, where employers must make it clear on customers' bills that the tacked-on fee isn't necessarily a gratuity. The Rhode Island legislation, co-sponsored by four others, is meant to protect both customers and workers, Blazejewski said.
"It's an issue I've been hearing about for some time from my constituents," said Blazejewski, noting that his neighborhood in Providence includes many restaurant and hotel workers. "For one, it's about fairness for the wait staff that relies on tips. Secondly, I think it's a consumer fraud issue where patrons have a reasonable expectation that the tip is to reward good service."
Employers would still be able to add administrative fees to checks; they just couldn't describe them as tips or gratuities, Blazejewski said. The Rhode Island Hospitality Association, a trade group for hotels, contacted Blazejewski with concerns about the bill but were unavailable on Tuesday for comment on the legislation.
Urging on Blazejewski to take action against what he calls "tip theft" is Rhode Island resident Joey DeFrancesco, 23, a former hotel worker. DeFrancesco earned some brief Internet fame last year when he quit his job at the Renaissance Providence hotel in rather spectacular fashion -- with the help of his 19-piece bass brand the What Cheer? Brigade, which snuck into the hotel and burst into song as he handed in his letter of resignation. (The video currently has more than 3 million views on YouTube.)
A labor activist ever since, DeFrancesco runs his blog Joey Quits, which shares the personal stories of hotel workers, and pushes lawmakers on issues like the service fees. DeFrancesco says the bill should be passed to make the fees more transparent. "If they do have that service charge and it's not going entirely to the employee, it needs to very clearly stated that that's not a tip," said DeFrancesco. "We're thinking it's an uncontroversial bill."
Last year, a group of Yankee Stadium beer servers sued the stadium's concessionaire, Legends Hospitality, accusing management of illegally pocketing the bulk of the service fees attached to fans' tabs. Instead of receiving the 20 percent fee tacked onto the sale of beer, hot dogs and other stadium fare, the servers were instead given a much smaller commission of 6 percent.
Related
Popular in the Community