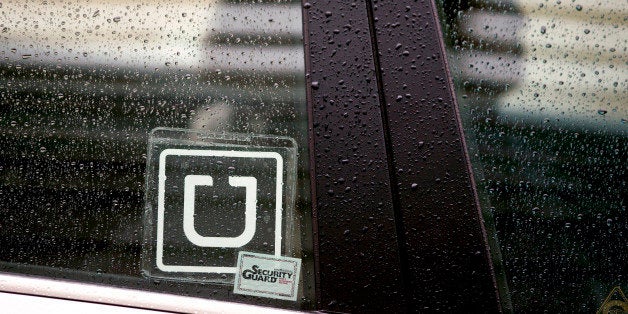 If you use the app Uber, you're probably not tipping your drivers.
While tipping is not required, you have the option to give your driver a cash gratuity if you wish. But many Uber users don't seem to know they can do this.
No matter what you may have thought, there is no tip included in what you pay when you take an UberX, UberBLACK or UberSUV. There is a 20 percent gratuity added to UberTAXI rides in the U.S., Uber says. (UberTAXI calls a normal cab via the Uber app and lets the rider pay with the app. It's not the same as UberT; UberT just calls a normal cab for you, and you pay the taxi driver directly. There is no gratuity added for an UberT ride.)
Uber has been known to discourage cash tipping. "Being Uber means there is no need to tip drivers with any of our services," the app's website reads. The drivers are allowed to accept tips but are discouraged from soliciting them.
An Uber rep contacted by The Huffington Post would not comment directly on the company's tipping policy.
Uber contends that its drivers make enough money to not require tips. In January, the company released some figures on what its drivers earn. According to the Washington Post, Uber suggested that its drivers can make $6 more per hour than taxi drivers in its busiest cities. This number has been contested, as Uber drivers have to pay for their cars' maintenance, gas and insurance.
Uber's numbers also revealed its drivers' demographics. There's a higher percentage of female Uber drivers than females who drive regular cabs, and almost the same percentage of Uber drivers and taxi drivers have children at home to support. Uber drivers might make more money than taxi drivers, but they also might need more money.
Many find Uber's payment system confusing. There are countless people on various Uber forums asking if they should tip their Uber drivers. Some feel that the company has a transparency issue when it comes to payment. Since every part of the transaction happens within the app, some assume that the tip is included in the payment within the app.
This past February, more than 13,000 people signed an online petition created by D.C.-based Uber driver Peter Faris which asked that Uber add a tipping feature. "Considering many drivers rely on Uber as a primary income source, it makes sense to allow us to earn a little extra money when passengers feel we've done a good job," the petition reads.
It should be noted that Lyft, Uber's biggest competitor in the U.S. allows passengers to provide drivers with in-app tips.
Whether you like it or not, we live in a country with a tipping culture, and giving someone a few extra bucks to reward good service is just a nice thing to do. A few extra dollars here and there can improve a driver's income significantly over time.