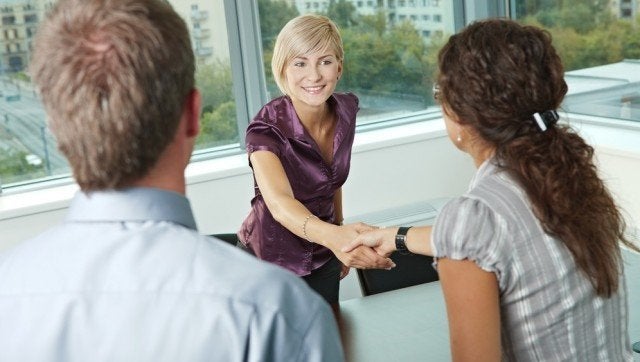 In the summer of 2011, my mom and her friends' concerns about finding fashion apparel online were loud and clear: Fashion sites were too edgy, too young, and too unapproachable. I began researching and quickly discovered that their concerns were real; popular e-commerce sites and department store sites were ignoring the needs of elegant, sophisticated, and mature female shoppers. The idea for Halsbrook -- a beautifully designed, easy to use website carrying high quality designer brands -- was born.
The first big hurdle we encountered was how to get 'suppliers,' in this case, designers, to come onboard. This is a problem that many start-ups face, from investment firms attracting their first clients, to technology start-ups securing their first contract. This problem is particularly acute in image-based industries, such as retail. You need the suppliers to sell you their product in order to get your business up and running, but they are wary about selling to a new company with no track record, and often no credit history. It is also true that if you get just one or two of the big name suppliers to sign on, you can start a 'domino effect' and the other suppliers will be eager to join in. So where do you start? How do you get the first big names to say yes?
We approached this problem in three ways. The initial step for us was building the team to meet with the designers. I had graduated from Harvard Business School in May 2011, and while I was armed with some business training and an internship with retail industry legend Marvin Traub, I knew that I did not have the retail expertise required to make my idea successful. Through Marvin Traub I met Rosemary Audia, former Divisional Merchandise Manager/Vice-President at Bloomingdale's for over 30 years. Rosemary had recently left Bloomingdale's and was interested in changing gears and working on a start-up. She had deep retail expertise, and luckily she was excited to join the team. Our team at that point included Ivan Grosny -- a terrific web developer with a unique sense for our customer aesthetic, and a talented group of outside web designers, branding consultants, and user experience experts. Soon after, Amy Zaterman, a wardrobe consultant with insightful knowledge of our customer base, joined and headed up the merchandising team. I knew we had the right group with the right edge to get the desired designers excited about our business.
The second step was creating the appropriate target list of fashion designers. We wanted an edited assortment of American and European designers, both well known and undiscovered. We looked for labels that fit the Halsbrook aesthetic; the clothes had to be elegant and high-end -- in terms of quality and price point -- and timeless enough to last in your closet. We then edited the list down based on Rosemary's knowledge of the competitive retail industry landscape. Rosemary explained that designers would want to know that at least one or two other designers they viewed as in their peer group were going to be on the site as well.
Third, once we had our list, we developed a clear strategy for our meetings. We knew we had to emphasize how we were different from other sites. Our edge was that we were focused on a demographic that the other e-commerce sites were not: the elegant and mature woman. Our goal in the meetings was to show how we were going to address the shopping needs of these women, and how we would be an attractive new distributor by reaching a new customer base. We also scheduled our meetings of peer group designers back-to-back in hopes that we could convince the group to join all at once if any were individually reluctant.
Our strategy did not work with all designers. Some said no to us. A few were worried about being overly distributed online, others worried their aesthetic was not right for us. When we received a no, we tried not to dwell (as difficult as that is!), but picked up the phone and called up the next designer on our list. We believed in our concept and our team, and we believed that by being persistent and consistent with our mission statement we would have the right designer assortment in the end.
Our approach paid off when Armani Collezioni, Piazza Sempione, and MaxMara all said yes, which set off our domino effect. After that, the smaller designers were eager to join us, and in total we had 38 brands at launch. Sticking with our plan of forming a great team, designers that match our brand, clearly conveying our vision to the suppliers, and staying persistent transformed the Halsbrook concept into an exciting live business. In return, we work very hard on living up to our promise to our brands that we will deliver an elegant and special shopping experience to our customers... but this is the fun part!
REAL LIFE. REAL NEWS. REAL VOICES.
Help us tell more of the stories that matter from voices that too often remain unheard.