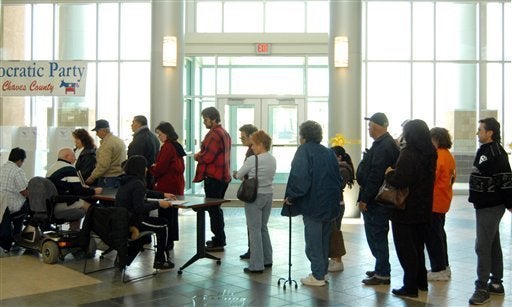 The crucial swing state of Colorado is the latest state in which some voters might not be able to cast a ballot because of a technical mistake they made when registering to vote. Colorado's Secretary of State Mike Coffman, the state's top election official and a Republican, has deemed over 6,000 voter registration forms incomplete. Steve Fenburg of New Era Colorado estimates that there may be as many as 10,000.

Adrian Herrera is a 25-year-old art major who was excited to vote in the upcoming presidential election.
"Basically I registered to vote when I started to work for the SEIU and I was told to put the last four digits of my Social Security Number inside the identification box ...I thought everything was good until I was told my registration was not valid," said Herrera.
Herrera is one of the estimated 10,000 people whose registration forms were deemed incomplete and therefore invalid because they used their Social Security Numbers as identification yet didn't check a box to indicate they don't have a Colorado driver's license or state ID number.
Progressive groups want Coffman to process the registration forms.
Rich Coolidge, a media spokesperson for the Secretary of State's office, says there are no plans to do so.
"At this point our office won't be able to do that. The county clerks are not able to do that because the law is the law and our office and the county clerks have to abide to state and federal law."
Coolidge added that the county clerks are in the process of notifying voters. Voters who are unaware of the contested status of their registration can still cast a provisional ballot at the polls.
"The secretary is encouraging everyone to show up if they aren't registered and they didn't get this incomplete status corrected, they can still [cast] a provisional ballot. I know there are some myths that the provisional ballots are not counted. That is just not the case...the traditional ballots are verified...and then counted."
Donna Davis, Project Director of the African-American Voter Registration and Information Project says "it is difficult for new voters since it requires the voter to present him or herself at the county clerk's office after the election to file paperwork and prove they are the person on the ballot. Provisional ballots are usually not counted until a week after the election and often are subject to challenges. Also of note is that of the almost 2 million provisional ballots that were cast in 2004, a little more than a million were actually deemed valid."
Dusti Gurule, an organizer for the nonprofit group Latina Initiative, said, "The provisional ballot process is not just another form of the ballot... There is a process of verification that [takes place]...That's a whole other step for someone who does not have to time to drop their ballot off...it's not as easy as they say it is."
To further complicate the issue, voter registration groups say that the representatives from the Secretary of State's office who trained them to register voters did not inform them to advise their canvassers to be sure to check the box in question.
"The issue of the check boxes was never raised and in some of these trainings was never even discussed. In the [training] I was in they actually told to us that [the voter] can use either and if they have a driver's license not to check the box."
The Secretary of State's office denies this.
"Our staff was very clear with the laws and the people who did the training have assured [us] that this was part of the training," said Coolidge.
The latest CNN Poll of Polls shows Democratic presidential candidate Barack Obama leading his Republican rival John McCain by seven points in Colorado, a crucial swing state. In a close race 10,000 popular votes out of 100,000 people newly registered in Colorado can make the difference when it comes to the Electoral College which, in the end, determines the outcome of the presidential race.
Gurule says the people most affected by the disqualified registration forms are mostly first-time voters who tend to be college students and minorities.
"In the communities where we do our work, primarily low income [areas with] people of color, there is a lot of energy regarding this election so a lot more people are wanting to register and get engaged and get involved," she said. "By deductive reasoning, I guess you can assume this is going to disproportionally impact some of these folks who are not traditionally involved in politics."
Davis says that the Secretary of State's decision not to process the contested registration forms is a violation of federal election law.
"It is a violation of federal law, specifically, a direct violation of the Voting Rights Act of 1971. ..which says no person acting under the color of law shall deny the right of any person to vote in an election because of an error or omission on any record or paper relation to any application, registration or other act requisite to voting, if such error or omission is not material in determining whether a person is qualified under State law to vote in an election... refusing to allow the registration of these voters without further process is a direct violation of their rights. The eligibility of these voters is not challenged; they simply made an immaterial omission in neglecting to check a box."
Colorado's governor, Democrat Bill Ritter, sent a letter to the Secretary of State's office last week calling for a timely resolution of the matter.
"The law [states] that the [Secretary of State] has the ability to cure the problem until election day and we're finding ways to utilize communication devices to make sure people know that...We are really trying to work with the Secretary of State to [fix the situation]. I do think they understand that they were mistaken and have [made] some efforts to cure it. If that means that I keep talking about it [on] the airwaves, that's what it means." Ritter said.
A week before the election, Secretary of State Coffman has stood firm in his refusal not to process the contested ballots. New Era Colorado has posted the Secretary of State's list of incomplete registrations on their website. Whether the estimated 10,000 people who were affected will be able to vote by election day remains to be seen.
Popular in the Community