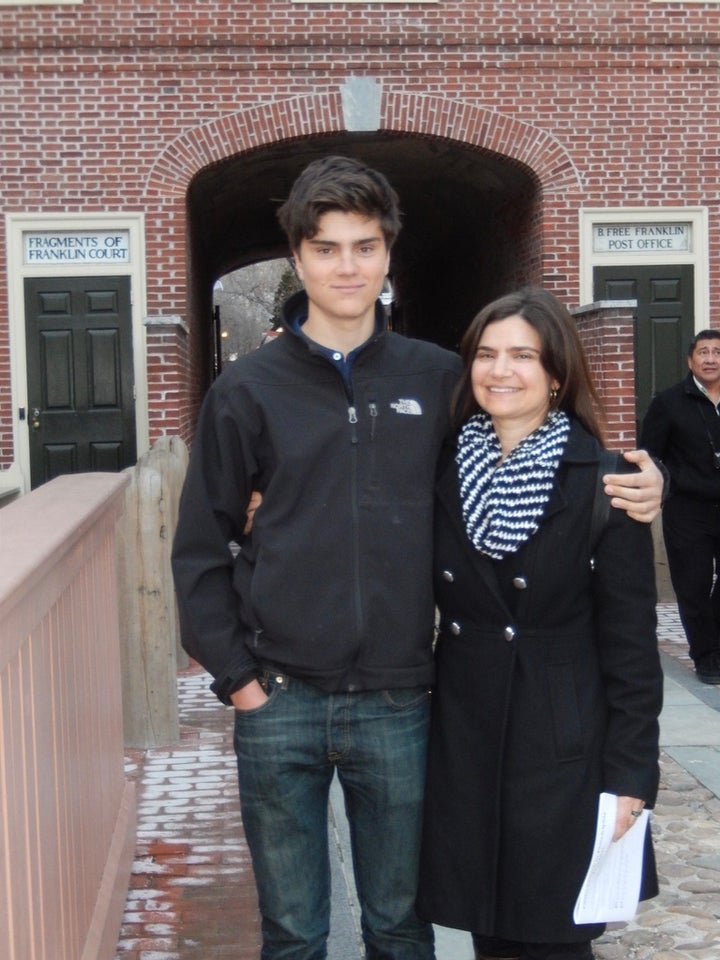 Almost two years ago, my son and I embarked on the journey many families are contemplating at this time of year ― the college tour. It was my son's junior year, when the prospect of applying to college seemed daunting. We were caught up in the excitement and the many decisions to be made. Now that my son is a well-adjusted freshman in college, I can offer some tips on what to do and what not to do in planning your trip.
1. Identify a focus but see some variety
It helps to have a focus. In our case, my son knew he wanted to study something related to communications and he preferred a school in an urban location. To that end, he came up with a list of eight schools in large East Coast cities. But we also visited two schools in non-urban settings as a comparison.
Sometimes your child's preferences will be confirmed quite quickly. On our first tour, of Boston University, my son realized he indeed loved being in the city, with perks such as student tickets to Fenway Park down the street. He felt the same excitement at the other big city schools. Conversely, he immediately knew a place like U. Mass Amherst, in western Massachusetts, wasn't right for him, despite its proximity to so many other colleges.
2. See the sights beyond the schools
Seeing 10 colleges in 10 days was hectic, but we made sure to take time to see the sights along the way. On our way from New York City to Boston, we made a stop in Hartford, Connecticut to tour Mark Twain's grand Victorian house where he wrote classics like "Huckleberry Finn." Outside of Boston, we made a trek to see Walden Pond and the home of Louisa May Alcott, of "Little Women" fame. In Philadelphia we toured the historic Christ Church, where Ben Franklin worshipped, and then we saw the building where Franklin had his printing press.
It probably helped that my son is interested in history, but seeing these sights was also a novelty for us. Living on the West Coast we don't have nearly the breadth of historic places as the East Coast, so we took it all with appreciation. If we had been East Coasters visiting the West, we probably would have wanted to see beaches and Redwood trees.
My son didn't yet have his driver's license when we made our tour but that was just fine. He made an excellent navigator and this made him take charge of the trip. This was important as we covered a lot of miles, from New York, to Boston, back to New York, then to Philadelphia and Washington D.C. I could concentrate on the roads while he told me where to turn.
He was especially adept at finding great eats along the way, something a teenager with a cellphone can do best. (He consulted Guy Fieri's list of restaurants regularly.) We had a great burger at a greasy spoon restaurant in Hartford and a delicious meal at a trendy Cuban place in Greenwich Village.
The goal of our trip, to find a few great colleges where my son would want to spend four years, was certainly serious. However we found a lot to laugh about along the way.
On our tour of Mark Twain's house, the guide told us that the author had married one of the richest women in the U.S. and so he could afford to do nothing but write all day long, which he did—once 125 pages in one day! Upon hearing this, my son joked, "Maybe I just need to find a rich woman and forget this college thing." We also joked about the predictability of the college information sessions.
After the first few sessions, we knew more or less the rest of the spiel—this or that college had many famous graduates, even Pulitzer Prize winners, it had one of the best study abroad programs and a great internship program. Each information session was followed by a campus tour, always led by an enthusiastic student. On one such tour we counted the number of times our student guide said "awesome"—11 times.
This isn't to say the tours weren't helpful. Getting a visual picture of each school was very valuable. And we began to notice the quirks in each place. George Washington University students, for example, boasted about seeing the president's motorcade passing by regularly, and this was an "only @ GW experience," while the day we visited NYU a mass of students was queuing around Washington Square for free entrance to the "Game of Thrones" premiere.
Evidently, the guides' enthusiasm rubbed off on me. About halfway through our visits, my son told me not to get so excited about each school. The tours had me feeling wistful and remembering my good times in college. Every place we visited looked fun and I talked up the possibilities.
"Mom," my son said, "I'm the one going to school. It's my decision." I learned to tamp down my thoughts a bit after this.
Another thing we weren't quite prepared for was the weather. Even though it was April, we got hit with a snowstorm the day of our first tour in Boston. I had borrowed a winter jacket for my son (since he didn't own one) but hadn't thought to check his shoes. Sure enough, he had a hole in one of his sneakers and by the end of the tour his shoe was filled with snow. We still had one more school to see that day and we had to cut that visit short since he was so uncomfortable. Amazingly though, he was undaunted by that experience and ended up applying to these cold-weather schools anyway.
Of course, the tours are just the start of the long process of applying and deciding where to go. In the end, my son applied to 12 schools, on both the East and West coasts, and he was accepted at several of his top choices. He decided to go to NYU after getting in off the waiting list the week of his high school graduation. Needless to say, he's now got several pairs of boots and a parka! As for our college trip two years ago, we're happy we did it and have great memories of traveling together.
Allison de Laveaga is a writer and mom of two in Berkeley, California. She writes about parenting, travel, spirituality and other topics on her blog at www.allisondelaveaga.com.