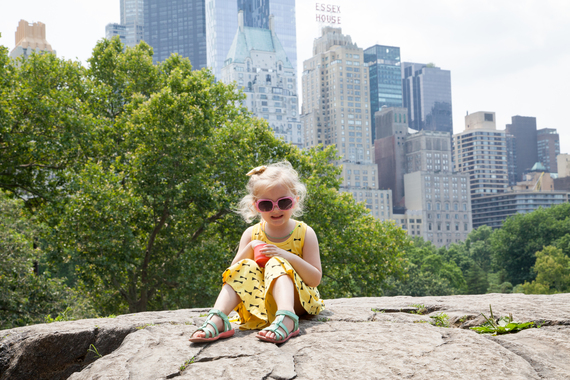 Central Park is one of the best places for families to enjoy in NYC. In every season, the park is endlessly entertaining for kids of all ages, from itty bitty babies who are content to sit in their strollers and look at leaves, to busy preschoolers who can't sit still, and tweens and teens who are beginning to take an interest in history.
Tips on making the most of your day in Central Park:
Bring a picnic lunch or lots of snacks. There aren't many places to buy food in the park apart from hot dog vendors. If you're entering from the south end of the park, you can pick up a delicious picnic lunch from Whole Foods at Columbus Circle. For reasonably priced food within the park, Pain de Quotidien on 69th street has light lunch and snacks. If you're after a bit of a nicer meal, drop by Tavern On The Green at 67th street or the Loeb Boathouse.
Pack plenty of water for the same reason.
Pick up a physical map or download one to your phone. Even if you have internet on your phone, it's hard to get in the park, making it easy to get lost.
Note bathroom locations before entering the park - they are also few and far between.
In summer, pack water shoes and swim suits as many of the playgrounds have water features.
Wear comfortable shoes and pack sunscreen and a hat.
Don't take a carriage ride around the park without reading up on the animal welfare concerns surrounding these horses.
Bring a picnic blanket - like one of those Skip Hop blankets that zip all the way around.
Remember small and light toys like a ball or frisbee.
Wander the archways and bridges. The most famous is the beautiful Bow Bridge, but there are 30 to discover.

Playgrounds! There are 16 to discover. A favourite is the Ancient Playground, inspired by the Egyptian Wing of The Metropolitan Museum of Art next door.
Climb rocks. This alone can keep your child busy most of a day.
Ride the carousel, the fourth to have stood in Central Park since 1871. This one is super fast, so hold on!
Visit the angel on the Bethesda Fountain that has featured in movies like One Fine Day, Ransom, Enchanted and Staying Alive.
In winter, strap on skates and take a spin around the Wollman Rink, then warm up afterwards with a hot chocolate.
Christine Knight writes about navigating the world and parenthood at Adventure, Baby!.