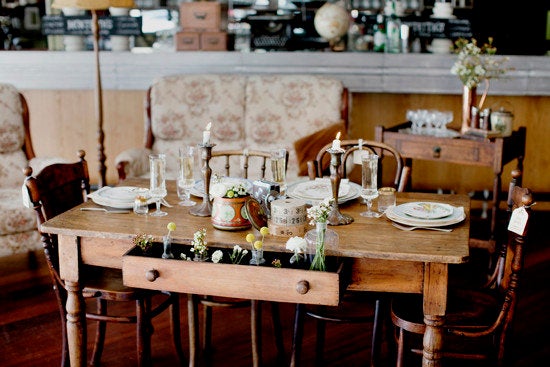 Choosing a color palette is one of the first things you'll do when planning your wedding, and it can be quite difficult! It's shocking how the colors you love don't always work as wedding colors, and, of course, the colors you love may not be what your future bride or groom loves. Here are our tips for choosing the perfect colors for your
,
, and all of your wedding day details.
1. Get out of the house and browse.
You can do this anywhere from an art museum to a department store to a flea market -- anywhere there are a variety of items to consider. Take note (or, even better, pictures) of the items you're most drawn to. Write down the colors that you like together, paying attention to the details. If you're drawn to say, an old map, don't just write down pink, blue, and green; also include the glossy black typography, the wood frame it's in, and the rustic-looking paper. All the little details can really help develop your palette.
2. Look around your house.
First, look at the walls. The colors you chose (after a lot of consideration and paint samples, no doubt) to display prominently in your home are a great place to start. Then look at the colors of furniture, trim, and the floors. Finally, look at the accents. Are they black? Silver? Red? These things give you great clues into the colors that you've already decided work for you. (If you haven't painted or decorated your home for any reason, that's OK -- thanks to the web, it's easy enough to design your dream home without painting a thing.) At first glance, the colors in your home may not seem like wedding colors, but once you start browsing flowers or table decor and you might be surprised by how well they work.
3. Think about the mood you want to set.
What words describe your wedding? Dramatic? Fun? Sweet? Opulent? Colors are a powerful way of influencing people's moods, so you'll want to choose colors that get you and your guests in the right mindset. If a color you love doesn't seem right for the mood you're trying to create (say,
for a dramatic wedding), that's OK -- balance it out with one or two (deep purple, gold) that can set that tone.
4. Don't get too caught up in any color's immediate associations.
Sure, pale pink and green may make you think of
, but those aren't exclusively spring colors. One trick is to think of ways your colors have been used throughout history or in different cultures. Pale pink and green may say spring now, but in the 1950s and 60s, these pastels were super trendy for winter. Through your other decor choices (flowers, textures, typography, etc.) you can make almost any color combination work year 'round.
How did you choose your color palette? We'd love to hear from you!