Video is an excellent medium to use when looking to share your expertise and build your profile.
Viewers are not only more likely to engage with visual content; they are also able to make a personal connection with you by watching your videos.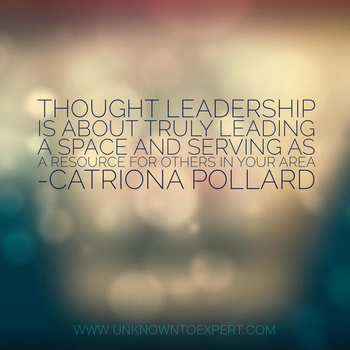 Filming your own series of videos ensures you have complete control over your message. You are able to do as many takes as you need to get the message right.
Once you have filmed your videos, you can upload them online to platforms such as YouTube and then share them via your social media networks, embed them on your website, share them in your newsletter and much more.
Videos can be used to introduce yourself as an expert in your industry, offer your opinion on a product or service or promote the latest news about you and your business.
There are many different types of videos that you can create to build your expertise and thought leadership in a particular industry. The following video formats can help you build your own thought leadership.
Online Tutorials - In an online tutorial video you share valuable knowledge with your target audience. Start by identifying what you would like to teach your viewers and write down the main steps/instructions that you want to get across. This is a great way to deliver value to your target audience.
Interviews - Having someone interview you is an excellent way of demonstrating your personal knowledge and expertise. All you need is the help of another person to read out pre-prepared questions and reply with well considered answers. Start by drawing up a list of questions that give the viewer an insight into you, your background, your business and your particular area of expertise.
Once you have selected a video format, the next step is to produce the videos. Here are some tips on how to create a great video.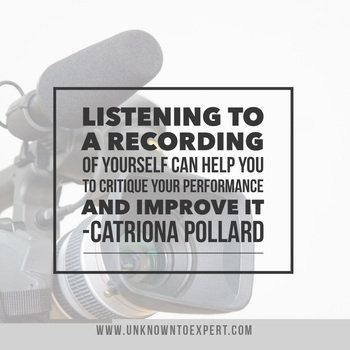 Prepare a script
Having a script prepared will ensure you get your key messages across and optimise your time spent on camera. It will also help prevent you from feeling lost for words and saying 'um' to fill in time.
It is important to remember when writing your script that it is there to be spoken, not read. Make sure your tone is conversational and opt for short sentences. Leave room for pauses.
Practise, practise, practise!
The more you practise and personalise your words, the more your audience will find meaning in them and believe what you are saying. Practising aloud will help you get used to how you speak and how words roll off your tongue. If particular words trip you up, then you can make necessary changes to the script.
Use a teleprompter
A teleprompter is a valuable piece of equipment to use when filming a video. By using a teleprompter, it will save you from having to memorise your script and ensure your key messages are professionally delivered. Your production will look more polished and professional.
Using a teleprompter will also encourage you to look directly at the camera lens, creating the illusion of eye contact with the audience. This will help to engage your audience.
A teleprompter should be set to the speed appropriate to your speaking voice. If you pause or improvise, be confident that you can pick up from where you left off on the teleprompter.
Teleprompter apps are available for most portable devices.
Consider your backdrop, sound and lighting
It is important to be mindful of the backdrop you are filming against. Make sure there is nothing happening or moving in the background, as this can interrupt the flow of the video. Set up in a quiet room and make sure there are no distractions.
You also need to think about lighting when setting up your area for filming. If you are not outside or don't have the advantage of natural lighting, you may need to use additional lights. Without good lighting your video may appear grainy and unclear.
Sound is also very important to consider. If you are filming from a portable video camera, consider purchasing a microphone that will plug directly into the camera. This will reduce the amount of outside noise in the video and help your voice be heard clearly.
Remember to smile
Always remember to smile! Smiling is a simple way of connecting with your audience, as it can help your personality shine through.
Be mindful however that if you are discussing particular topics which are serious a smile may not be appropriate.
Include a call to action
Ensure that you give your viewers something specific to do at the end of watching your video. Ask your viewers to share your video, comment or sign up to your database to receive updates and your latest videos.
Remember that a successful video communicates your purpose and key messages clearly in an engaging manner. Always prepare and practise to ensure the best results.
Related
Popular in the Community