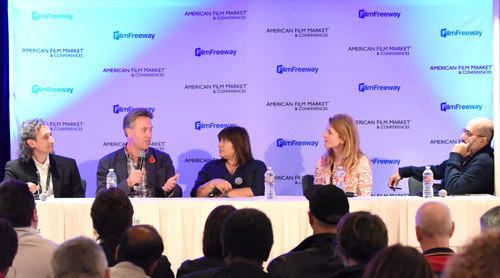 Documentary Panel at the AFM, Richard Abramowitz, Abramorama, Jamie Carmichael, Film, CONTENT, Senain Kheshgi, Femke Wolting, Submarine, Julian Cautherley, Good 'n Proper (Photo Richard Shotwell/Invision for IFTA/AP Images)
The American Film Market (AFM), the annual event where hundreds of feature film and television producers, distributors and buyers from all over the world descend on Santa Monica for a full tilt attempt to set up, sell or otherwise move their projects forward makes room for genres of all types, including documentaries.
Non-fiction is not the AFMs main focus by a long shot but these films do find international buyers at the Market who know they attract audiences looking for something different. To help doc makers navigate the global marketplace, documentary director, writer, producer and board member of the International Documentary Association (IDA), Senain Kheshgi organized a panel of producers and distributors who could shed some light on the subject.
"Has to be for every country," said Jamie Carmichael, President, Film Content that finances and distributes popular documentaries such on subjects like Janis Joplin, Jimi Hendrix, Steve McQueen and Scientology from "A" list producers like Alex Gibney and Amy Berg.
He wasn't the only one who assesses the international potential of a project before signing on. Femke Wolting, founder and Managing Director of the Amsterdam independent film company Submarine, also looks at film's global strength before agreeing to co-finance or a co-produce a project. No one is 100% certain what any film will do. "Sometimes I get surprised," said Wolting.
Others take a slightly more personal approach. "I look for things I like," said Julian Cautherley, Producer, for LA based Good 'n Proper, whose company produces commercials, feature films, music videos and documentaries. Liking something doesn't mean there's a lavish budget.
"I like to make a movie for as little money as possible and still be good," said Cautherley.
He likes the immediacy of being able to make some documentaries versus waiting for financing.
"With documentaries you very much will it into being," he said. "Don't have to wait. Can pick up a camera then show it to HBO."
Beyond the empowerment of being able to just go make something there are financial considerations. "When you make a movie for no money, it will make money," said Cautherley.
Many documentary filmmakers see getting their films into a theater as a prestigious and important way to distribute their films but if you want to reach a broad audience, television is a better platform.
The recent documentary from Alex Gibney about Scientology, "Going Clear," ran on HBO and attracted 8-million viewers. "Hard to do that theatrically," said Carmichael. "For documentaries it's important to reach a lot of people . . . (and this film) sold in almost every country in the world."
Another advocate of the low budget, or in this case "make them for nothing" gang, Richard Abramowitz, President, Abramorama, also "releases them for little"
He likes to spend his resources on "finding people who will respond," to a doc once it's in the marketplace. A film about Laurie Anderson based on her passion for the Tibetan Book of the Dead started out as a short for France's ARTE. He helped turn this into a feature length doc and is getting it ready to go into theaters. It probably won't attract a large audience like a bio about Amy Winehouse but by focusing on people attracted to Anderson's art, spiritualism and Buddhism, Abramowitz can build an audience.
Finding an audience is part of the challenge but the main worry for most doc makers is finding the money. Submarine's Wolting works with sales agents and broadcasters to get commitments before the films are made. Her base in Amsterdam helps her make contacts with buyers throughout Europe.
Like feature film producers she's able to tap into funding pools, tax credits and co-productions arrangement that are only available to companies in the European Union (EU). It's a bit complicated for US based producers to avail themselves of these funding sources. This could be a possible subject for a future panel.
There is good news for filmmakers. A traditional run in a movie theater or even a television broadcast are not the only options for documentaries. Documentaries are suitable for "community centers, schools and anywhere with a big screen and good sound," said Cautherly.
Digital outlets like Netflix have also embraced documentaries as people have started cutting their cable cords and turned to numerous screens to watch content.
Where does all this go? "It's impossible to predict the future," said Cautherly.
They may come in all different sizes and formats, and even in Virtual Reality, but documentaries will be a part of that future.
Calling all HuffPost superfans!
Sign up for membership to become a founding member and help shape HuffPost's next chapter