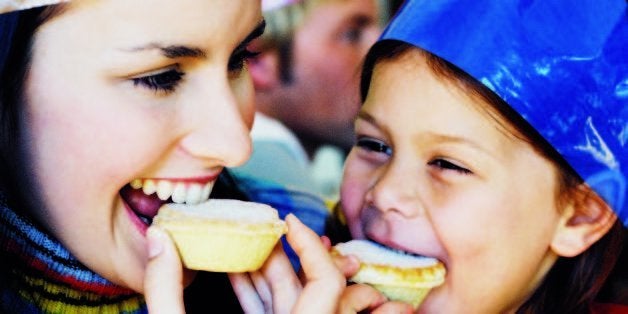 The pressure on parents to throw their child a birthday party that rivals their friends' parties is nothing new, but the bar has been reset. The trend of over-the-top, commercialized parties --parents hiring circus performers or taking a gaggle of tween girls to a day spa -- has been replaced with pressure to customize, personalize and impress guests with hands-on party planning, homemade food and Pinterest-worthy DIY decorations. A recent study shows that the shift is leaving many parents stressed out, unsatisfied and insecure about pulling off a birthday party for their child. But, helping your child celebrate his big day doesn't have to take such a toll.
"There's tremendous pressure to be an expert crafter, a professional photographer and a videographer at your child's party; and a real level of craziness around it -- either because you get pure joy out of throwing a fabulous party or because of peer pressure," says Lisa Gachᅢᄅ, an etiquette expert who often advises on event hosting. She says plenty of parents are realizing the insanity of competition over birthday parties and are choosing to go the opposite direction -- not back to flamboyant parties, but to simple, age-appropriate celebrations with cake, food and a bit of entertainment -- minus the personalized favors, caterers or fancy linens.
Here's how to keep your party manageable and memorable, too:
1. Create a guest list that makes (almost) everybody happy. The etiquette rules -- at least for grade school or younger kids -- state that if you are hosting a big party, you really should invite the birthday child's entire class. To cut the guest list and the expense, you can invite only one gender or host a small party with five or six kids or less. Once kids hit the middle school years, parties are typically smaller and the invite list can be left to the guest of honor.
2. Don't compete with other parties. If you know that your child's birthday falls on the same day or close to a classmate's big day, ask the other child's parents about their plans for celebrating. You don't want guests to have to choose between two parties. Instead, choose another day to celebrate or consider hosting a joint party -- for twice the fun and half the expense.
3. Prepare for extra guests. Expect that the parents of kids younger than age 5 will likely stick around for the party. You're really inviting a young child plus one parent, as prior to kindergarten many kids aren't ready for a drop-off party. This doesn't mean you need to prepare a separate menu for parent s-- it's fine to offer them the chicken tenders and pizza triangles you plan to feed the kids, says Gachᅢᄅ. Just make sure you have plenty of food and drinks to make all your guests feel welcome.
4. Eliminate the need for gifts or party favors by hosting an activity-based party. Even if you ask guests not to bring a gift -- neither your child, nor your closet, needs another craft kit -- parents sometimes feel uncomfortable sending their children empty-handed. You can suggest that parents donate a book to the school library under the birthday child's name in lieu of a bringing a gift; or you can ask parents to send paint, for instance, for an art project their child will create at the party. Forego the goody bag by sending kids home with their completed projects.
5. Don't go it alone. Rather than hiring an event coordinator to help facilitate, hire a babysitter (or two or three) to help. Kids will love having a favorite sitter at the celebration, and you'll appreciate having the extra set or sets of hands to corral kids, serve food, spearhead activities and keep things running smoothly. By sharing the work, you'll be better able to join in on the celebration.
Rather than focusing on throwing a party that blows all other parties out of the water, remember that the goal of a successful party is for everyone to have fun -- the host included.
Related