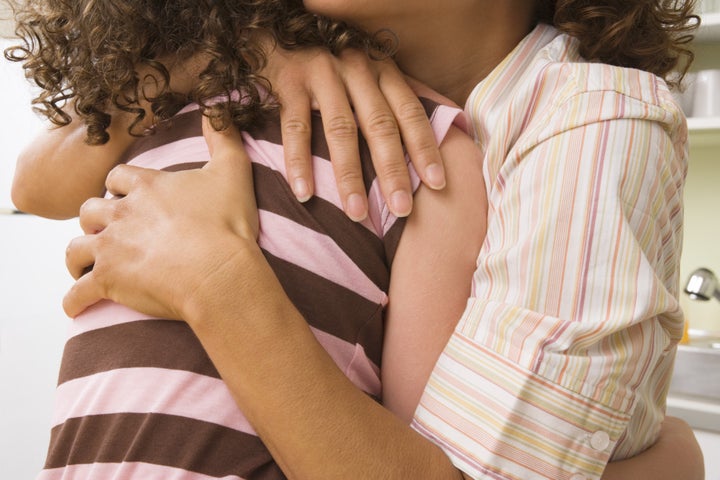 It's never easy to be away from your kids, whether it's a short business trip or a move across the country. Here are a few tips to help you keep the connections strong.
1) Every few days plan to read or tell your child a favorite or familiar story over the phone (or by webcam) before bed, like Goodnight, Moon or your own favorite story from childhood. The story can be short, less than 15 minutes long. If you each have your own copy of the story, you can turn the pages together even though you aren't in the same room. This is particularly good for a smaller child as it's interactive.
2) Send your child funny or cute inspirational postcards once or twice a week. If you have more than one child, alternate with ones addressed to them individually or as a group. Write sweet sayings like, "I'm thinking about you right now!" or "You are the best!" or something that follows up on something said in conversation that needs encouragement like, "Always try your best!" or "Good work on that spelling test!"
3) If you live far away and can spend a longer period of time in your child's town, volunteer during your visit at the child's school. You'll have a shared experience you can talk with your child about and you'll meet the teacher and some friends.
4) Meet the parents of your child's friends as well as the friends themselves when you visit in their town. Again, the idea is to create shared experiences you can talk about.
5) Find a "Mommy and Me" or "Daddy and Me" activity in the community, or at least something you can participate in together. Attend scout meetings, and consider using your vacation time to chaperone on a scouting or 4H trip. Many cities have active Parks and Recreation Departments with plenty of child-centered activities.
6) When you're visiting in your child's town, cook as much as you can for the child, rather than eating only in restaurants, and include your child in cooking activities. If you're staying in a hotel, consider one with a kitchenette. Even little ones can be included in measuring, stirring and pouring. French toast is a great example of a food which kids can help prepare and that doesn't require a lot of equipment or ingredients.
7) Call at different times. Don't just have a Sunday phone time; it makes the talking too rote and not spontaneous enough. Let your child know you are thinking of him or her in the morning, before bed, on a weekend, and so on. Be sure you don't interrupt dinner, bedtime or homework, and make sure your calls are not so frequent as to be disruptive, but keep in touch.
8) Use e-mail, text, skype and webcams in addition to the telephone. Keep the conversations flowing.
9) Find out your child's passions at the moment (TV shows, movies, books) and read or watch them. Be conversant in your child's language.
10) Send newspaper or magazine clippings so that you can talk about something of mutual interest. You don't always have to talk about personal things; you also want to be in touch with their brain!
For children who are age 7 and up, mix it up a little bit with sending messages in code. A simple one, for instance, is to write the alphabet on a single line. Below it, write the alphabet again but shift it one letter to the right so the A is below the B and so on. H LHRR XNT! becomes I MISS YOU! This suggestion is from Dan Verdick's book The Business Traveling Parent You could also e-mail or fax brain teasers or scan or fax a page from a coloring or activity book--even silly photocopies of your face.
11) If time and money permit, zoom in just for dinner or an overnight. Give the other parent as much notice as possible, then tell your child after the arrangements are made, so everyone can plan. Then make it a quick visit that feels like "normal" life. Planning around a business trip may make it more affordable.
Support HuffPost
A No-B.S. Guide To Life
Related
Popular in the Community