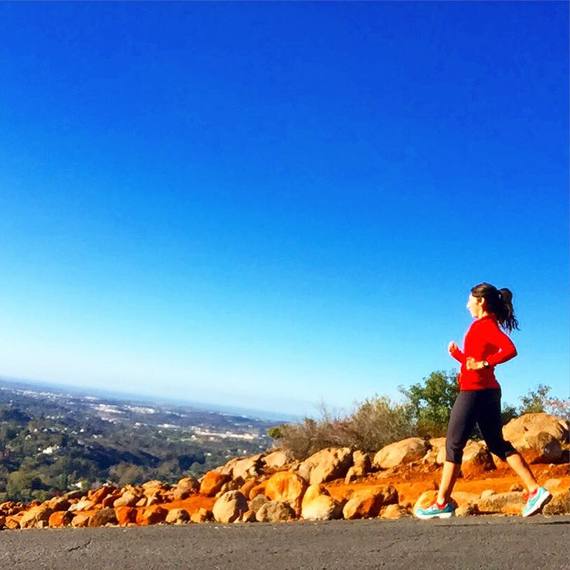 A friend recently told me she noticed there seemed to be a fad people were jumping on -- the running fad. At first I didn't like the sound of it because a fad is something that usually passes. But then I realized, with the obesity rate growing not only in adults but children as well, I see this fad as people's way of finding a way to fight this epidemic head on. And this running mama hopes it sticks.
I started running back in 2007, initially as a way to help lose the last 10 stubborn baby weight pounds (my daughter was already a year old by that point). And over time it grew into a passion of mine. I love the health benefits of running, but I also enjoy what it does for me mentally and emotionally. I went from not being able to run a mile without stopping to running marathons and ultra marathons.
If one of your New Year's resolutions is to become a runner, here are some tips to help you set off on the right foot. There is a ton of information out there on how to do it the "right way," and I'd argue that you have to find the way that works best for you!
1. Get the Right Gear for You:
Get fitted for a a pair of shoes best suited for you! One of the things that I asked all my runner friends when I started and something I always get asked by a new runner is: What shoes do you wear? What one runner wears may not work for another. Bypass chain stores like Foot Locker, where it's not likely the salesperson is a runner, and consider checking out a local running store. They are trained on how to analyze your gait and foot type and can determine the best shoe for you. You may have to try out a few pairs before you find "the one" but many of these smaller stores have wonderful return policies that will allow you to exchange them for a different pair if after a few runs you decide it's not the right fit for you.
A few years ago I went to a sports bra seminar (they exist!) where we were all fitted for the right sports bra. It turns out if you are smaller chested you can usually get away with wearing a cheaper sports bra from places like Target. But if you are larger chested, you'll want to make sure you get an accurate measurement and a supportive bra (without having to double up with sports bras). Moving Comfort has a great line for larger-chested women.
Look for fabric that wicks away the sweat and something that you are comfortable with. You want to be able to focus on running not worrying about how your clothes fit.
Look into purchasing a used one on Craigslist, at a garage sale or from a friend. Most people will only use them for a few years. I recently sold two strollers, one I bought new and the other I bought from Craigslist -- both sold for similar prices, which made me realize the better deal is usually to buy used.
2. Choose a training plan:
When I first started, I had no idea there were programs out there to get you started on running. I just jumped on a treadmill and ran. And when I was finally able to run a mile without stopping I asked a runner friend: How in the world do you run 2 miles? Her answer: You just run it. So I did. But had I known about a training program to ease me into it, I probably would have gone that route. Couch25k, Hal Higdon, and Jeff Galloway are just a few that you can turn to for guidance. Runner's World also has guides for new runners (and yes, even if you can't run a mile, I'm calling you a runner!). Find a program that matches your needs and personality. I opted for Hal Higdon's plan once I was able to run 2 miles because I preferred all running over a walk-run approach, but any plan will get you to your destination -- whether it's a 5k, 10k or more.
3. Don't be Afraid to Fuel and Hydrate:
Depending on the distance, I either run with a handheld water bottle or I wear a hydration belt. My husband on the other hand prefers to wear a Camelback. When I first started running, I was afraid to drink water because I didn't want to have to go to the bathroom. I quickly learned running during the summer means you must have access to water to prevent dehydration.
There are many options for fuel. Just as with finding the right shoe, you'll have to experiment with different kinds and flavors to see what works best for you. My suggestion is grab a few different kinds at a running/sports store and choose one that tastes good and doesn't upset your stomach. I don't typically fuel for distances shorter than 6 miles, but again, every runner is different and you have to do what feels right for you.
Sometimes we need a little motivation to get out the door. Look into local 5ks, whether they are something like a Color Run, Obstacle Course 5k or a charity run. Knowing you have a deadline may help motivate you to get out the door. Also, reach out to friends who are also interested in running. Set a day where you will meet up for a run because it's more likely one of you will encourage the other to lace up and get out the door.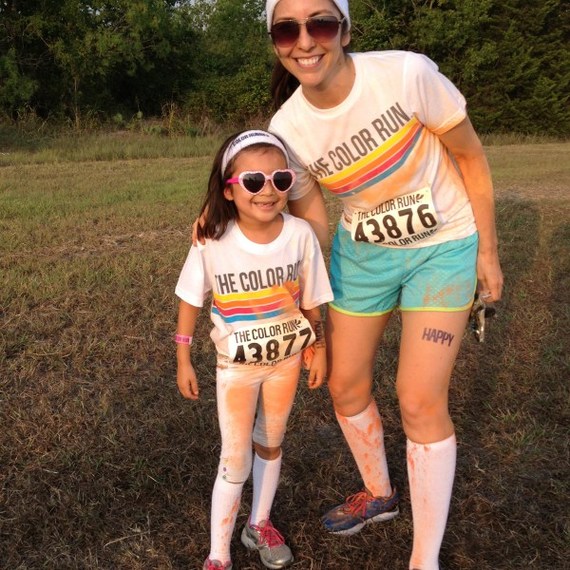 Another thing you can do is get your family involved! Sign up the whole family for a 5k and push the kids in the stroller or have a date with one of you kids and run the race together -- showing them running can be fun will spark their interest and you may have a future runner on your hands!
I think the biggest mistakes a new runner makes is they try to run too fast, too far, too soon. You aren't in competition with anyone else out there. So if you have a friend who runs a 7-minute mile and you're running a 14-minute mile, that's okay! She is running her race and you are running yours. You want to ease into running to prevent injury. Expect things to be a little achy -- when I first started my knees hurt and my chest felt like elephants were sitting on it. But that's because I hadn't run a mile since middle school. Friends and acquaintances will often ask: When does running get easier? The truth is: It doesn't get easier, you get better. Just take it one step at a time.
Above all, try to have fun and enjoy yourself on this new adventure.
Nicole is a running coach and mother of four who writes about running, family, fitness, and faith at My Fit Family.
Related