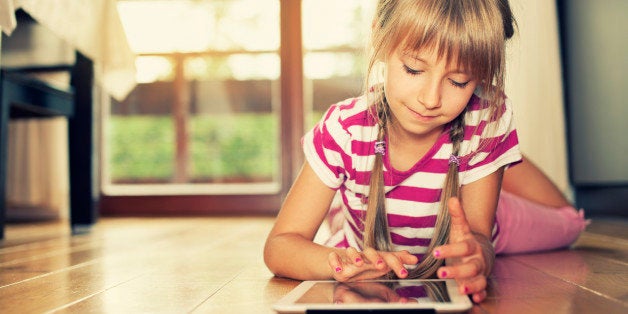 Hand over your iPad or smartphone to a child these days and watch them -- immediately launching apps, playing games, sending messages, posting pictures, and watching videos.
It seems kids these days as young as two are very comfortable using technology. They just seem to "get it." They know what to do without any help and, most times, they know how to use mom's smartphone better than mom.
Technology is wonderful, useful, and helpful. But, it can also be distracting, dangerous, and hurtful... especially when a child innocently stumbles into an unknown area or person.
What should a parent do to protect a child on a smartphone or tablet?
The following are four tips to help a child avoid online traps.
1. Inappropriate Web Content
Younger children can find inappropriate websites by mistyping a word in a search engine or by clicking a link on a website, email, or video site. Older children know how to find inappropriate websites and can be distracted or subtly pulled into a dark place.
For such things, use a web filter on your child's smartphone or tablet to protect them from browsing the Internet on inappropriate web sites, whether it's an accidental or intentional visit.
Web filters are available for Windows, Mac, Android, and iOS (iPhone). Web filters can be installed on a device and will protect your child from surfing the web to any number of undesirable web pages, such as pornography, alcohol, gambling, tobacco, weapons, nudity, etc.
Web filters usually allow a parent to choose which types of websites are appropriate and which types are blocked. A parent can also create a list of websites to be allowed and only grant access to a select group of child-friendly websites.
2. Inappropriate YouTube videos
YouTube offers a plethora of video content. Some of that content is inappropriate for children. But YouTube also offers some protection from undesirable video content with a free feature: Safety Mode.
Safety Mode helps stop your child from viewing video content rated inappropriate by other YouTube viewers. (Caution: The rating system is created by other YouTube users.)
To enable Safety mode, login to your YouTube or gmail account on your child's computer, phone or tablet. You'll find Safety Mode in the Settings menu. Once enabled, logout of your YouTube or gmail account. The browser you used to enable YouTube safety mode will be protected by Safety Mode until you change the setting again.
3. Cyberbullies and Sexual Predators
There are lots of stories in the press about teens being bullied online. There are stories too about children meeting in person with someone potentially dangerous that they first met online.
Many of these inappropriate interactions began first with contact on a social network such as Facebook, Twitter, Instagram, Pinterest, Google+, Ask.fm, and Tumblr.
You could try to follow all of your child's activities on all of their social networks by logging in daily to see what's going on. Or, you could keep up with your child's online activities on social media by using a social media monitor.
Social media monitoring software has been on the market for a relatively short time, but can give parents peace of mind and assistance in trying to keep up with a teen's online life.
Social media monitoring software can help track a child's friends, pictures, and interactions on social networks. Many of these tools will send alerts to a parent if their teen is being bullied, if their teen "friends" someone over 18-years-old, or if their teen discusses self-harm.
Sending sexually explicit text messages (or sexts) is fairly common among teens and adults. However, if a child is caught sending a sext, they can be prosecuted for distribution of child pornography. (Note: if an adult is caught with a sext from a teen, they could be prosecuted for possession of child pornography.)
There are Android and iOS apps today that will monitor texts sent by a phone using a wireless carrier network (AT&T, Verizon, T-Mobile, Sprint, etc.) and these 'tracker' apps will send a copy of all texts to a parent's phone. Go to iTunes or the Google Play and search for sms or text tracker.
If your child uses Snapchat, WhatsApp, or any other messaging app, the only thing you can do to prevent texting is to block or remove the app. Apps are capable of sending messages over Wi-Fi, your home network, etc., and they are difficult to monitor.
To block apps on an iPhone, iPad, or iPod Touch, you can set up parental controls features in the Settings>General>Restrictions menu. This menu needs to be password protected, so choose a password your child won't be able to guess. In Restrictions, you can block the installation of new apps. So, enable that feature, and then delete the messaging app that you want your child to stop using.
To block apps on an Android phone, there are a variety of app managers for Android. These apps will allow/block apps on a device. You should password protect the app so your teen cannot modify or change settings.
Most kids are well behaved and are looking to have some fun or to socialize on a smartphone or tablet. ut just to be safe, protect your child's use of technology by using software to ease your burden.
Note: This article and the opinions expressed here are from Russ Warner, Internet safety expert and CEO of ContentWatch, makers of parental control software Net Nanny.
Popular in the Community