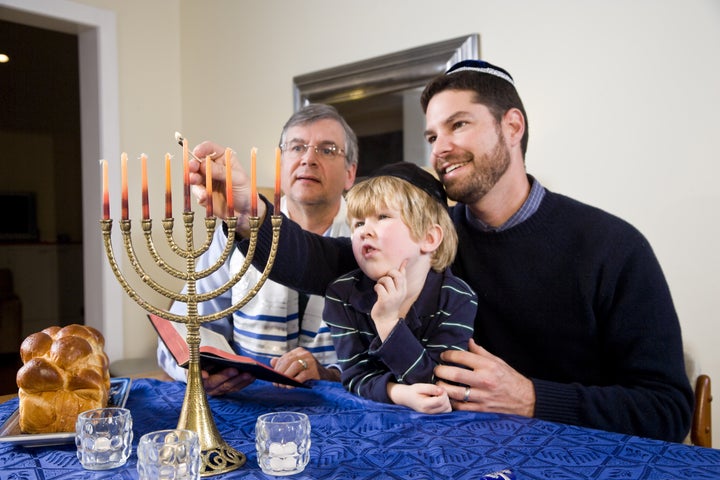 The holidays are a rare combination of joy, tradition and sprinting. They demand a huge amount of time and effort. If you're remarried with kids or step-kids or you and your husband share custody of the kids, holiday planning can be overwhelming.
Our book, Love For Grown-Ups, is a relationship guide written for women who married a little later in life. It may be a first, second or even third marriage that took place sometime after the bride turned thirty-five. We interviewed women all over the country about their marriages. Here are some of their very good ideas for making the holidays fun rather than stressful.
If children are involved in your holiday plans, work that out first. Ask some key questions: How long and when will the kids or step-kids be staying with you? When and how long will your kids be with their father and when will they be with you? There's nothing worse than getting tickets for the Ice Follies for everyone and then finding that your ex has made reservations to take them to the beach that weekend. Make sure you get dates and give dates to all involved parties (and if the kids are teenagers, include them in this too).
Get dates in your calendar as far in advance as possible. Beginning in October, our calendars fill up with dates right through the new year. We know that it's difficult to get the children's schedules early, but you can start with your calendar and go from there. Pour a cup of coffee and sit down with your calendar and edit it. That's right -- separate the "have-to" events and obligations from the "want-tos". There are obligations that you must fulfill, but be honest about what you really have to do.
Schedule nothing one day or one weekend. One woman we spoke to schedules a day or a weekend during the holidays with nothing on the calendar. If it's a day when the kids are with your ex, use it for yourself (you might want to think of this as a Christmas present to YOU!) But something magical can always happen when you and your family are spontaneous. If the children are with you, stay home and bake cookies or watch your favorite holiday movies. It may very well become the calm place in the middle of so many hectic weeks. On the flip side, if you receive a last minute invitation that is appealing, you're able to go.
Make a gift list and check it twice. We understand that you want to give personal and unique gifts. Maybe save that creative impulse for people's birthdays and for thee holidays, determine the one gift for this year. For instance, exotic fruit baskets or a calendar that you've created on Shutterfly or fancy chocolates for your gift list. Some of the women in our book gave gift certificates to book stores or Amazon to the teenagers on their gift lists. You could go further and make a donation to a charity in your friends' names; everyone appreciates that. Have a family "Kris Kringle" name swap, where on Thanksgiving you pick a name from a hat and that's the person you buy a gift for with a predetermined price range.
Don't feel you have to celebrate a holiday on the exact day. Some of the women we interviewed found that their husband's ex-spouse was adamant about having the kids on Christmas day or on Thanksgiving. You can celebrate Christmas on Christmas Eve or the weekend after Christmas. One woman we know has all her kids on the Saturday after Thanksgiving. Some families alternate holidays. We have learned that celebrations don't have to happen on the day of the event. Don't be rigid about the date if it is going to start an argument. Being flexible makes it easier on all of you -- and the important thing is to enjoy the holiday!
See people who make you happy. Try to get together with friends with whom you have no issues. Take it a step further and go to a festive restaurant so that nobody has to cook, clean or decorate. Find a pocket of time to raise a glass and have some laughs.
Create a greeting card list that consists of only the people you don't see during the holidays. You can deliver your holiday wishes in person to the people you do see!
Give yourself a gift. Create an oasis for you. Schedule a manicure and pedicure or sneak away to a café and read a book. Whatever it is that feels like a mini vacation for you is the gift that you should give yourself.
How do you manage the holiday frenzy? How do you thrive -- and not just survive -- the holidays? What plans do you make? We'd love to hear them!
Ann Blumenthal Jacobs, Patricia Ryan Lampl and Tish Rabe are the authors of "Love for Grown-ups: The Garter Brides' Guide to Marrying for Life When You've Already Got a Life", a relationship guide for women over 35 on how to find Mr. Right, marry and find life-long happiness. The Garter Brides are a sisterhood of women who got married later in life and wore the same garter at their wedding! They offer tried and true advice on how to have the love and life you want.