As early as even eight years old, some children begin to ask their parents about sex. They especially become aware of the differences in genitals when they are exposed early on either in school or in the home. If your child asks questions, that's the time to answer them. Generally, however, parents can wait a little longer when the child's cognitive development is stronger and they are able to digest the facts, but certainly by pre-teen and teenage years topics about sex must be discussed one on one even if they've heard detailed information in health classes in school.
6 Important Topics to Talk About
1Male and female reproductive systems
•Teens should see pictures of the internal and external organs of the body and learn the correct names for them.
•They need to be able to identify these areas of the body on themselves so there is no taboo or mystery.
2.Sexual Practices
•Sexual intercourse and other forms of sexual contact should be explained, so they don't learn them from peers who may not use correct language for these practices or have value systems in keeping with your own.
3.Pregnancy
•The risks of early age pregnancy should be discussed in relation to one's goals for finishing school, planning for college, and in relation to the responsibilities for an infant.
4.Affection Without Sex
•It's important to discuss early crushes and how to show affection without sexual involvement. Once again, family values need to be discussed as well as peer pressure.
5.Birth Control
•Often parents fear discussing birth control because they think it gives permission to have sex. That fear, however, can be discussed openly and honestly. It's important for teens to know the various kinds of birth control and learn to take responsibility for their own sex lives.
6.HIV/AIDS and other STDs
•Clear explanations of these diseases should be explained including prevention and consequences.
4 Tips for Speaking with Teens About Sex
Talking with your teens about sex is challenging. Parents fear saying too much or too little, though your child's responses will be your guide. The stronger your bond with your teen, the easier the conversation will go. Educate yourself before you educate your child, so you feel confident with the information you are sharing.
1. Some parents believe talking about sex will lead to teens having sex.
•Actually research shows conversations about sex lead to the postponement of sexual contact and appropriate birth control when the time comes.
•Parents need to share with their teens that most teens do not have sex early on, despite the rumors that may surround them.
2. If your teen is uncomfortable, share with them that you understand this is an awkward topic, but the more knowledgeable they are, the more relaxed and prepared they will be.
•If talking about sex is uncomfortable for you, it's fine to admit it and share some smiles about the discomfort both parent and teen share. Use your sense of humor.
•Share your values about when sex is okay with you recognizing your teen may have different values. Encourage conversation about your differences without being judgmental.
•Discuss with teens that you understand there is peer pressure, but what's important is what they are at ease with.
3. Give your teen websites and books to read at their leisure in their private moments.
•This gives you permission to not have overly long conversations, but know that the information they are getting is accurate and within your value system.
4. Everything doesn't need to be discussed at one time. Let your teen know you are available any time with future questions and will always value their opinions. In other words, keep the conversation going!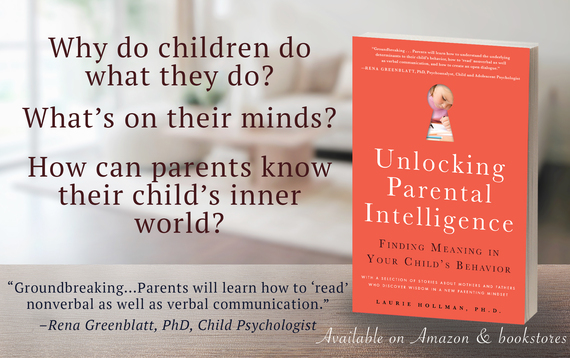 Laurie Hollman, Ph.D. is a psychoanalyst and author of Unlocking Parental Intelligence: Finding Meaning in Your Child's Behavior found on Amazon, Barnes & Noble, Familius and wherever books are sold.
This article was first posted on 99check.
Related