If you've read some of the articles we've written about retiring overseas, you know that we wholeheartedly recommend that you spend as much time as possible in a particular destination to be sure it suits you. You may find your ideal spot... or you may not. And that's OK, too. Perhaps you'll learn of other communities that may suit you better.
In any case, we're talking about some travel here. And as we all know, travel can be exhilarating. But like any kind of "ex," it can also be expensive, exhausting, and extremely frustrating.
So here are some tips to help reduce the stress and increase your enjoyment of travel: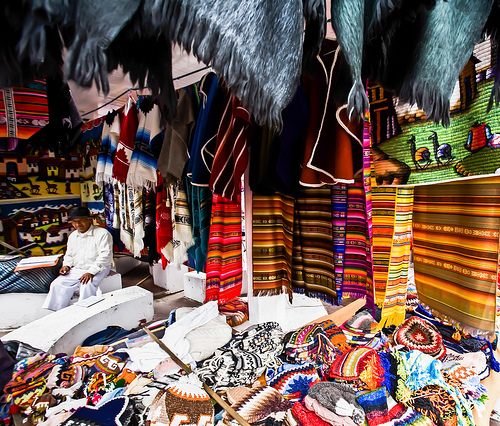 Barter at the local markets to get the best deals. Photo courtesy Hugo Ghiara, InternationalLiving.com
Pack light. There is absolutely no reason to drag a big suitcase along with a wardrobe for every day that you'll be gone. Also, you might be surprised that the hotel or apartment building where you'll be staying may not have an elevator... or staff to help you carry your things up three flights of stairs. Things like shampoo and shaving cream can be purchased when you get there, and besides, this will help you learn about the local products available to you. And outside the U.S. you'll typically find laundry facilities extremely affordable.
Tip: Don't ask the hotel to do your laundry. Instead, ask them to point you to a nearby laundry. (In a Spanish-speaking country it's called a lavanderia.) Chances are you'll find someone who will cheerfully wash, dry and fold your clothes for $3 to $4 a load. But word to the wise: don't take anything that needs dry cleaning or isn't durable.
Pack the right stuff. If we were going on a trip for two weeks or longer, here's what we'd pack. Her: one pair of nice slacks, one skirt, pair of leggings, 4 blouses or T-shirts, a scarf that doubles as a wrap, one pair of comfortable shoes, and if we're going somewhere warm (and we rarely go where it is not): a pair of shorts or sundress, bathing suit and flip flops. Him: two pairs of slacks, two long sleeve shirts, two polo shirts, two T-shirts, ball cap, swim trunks, and flip-flops. We both pack about five pairs of undies and we wear our bulkiest clothes on the plane... typically jeans, long-sleeve shirt and jacket, our favorite comfortable walking shoes, and our favorite Panama hats. We both have very small, easy-to-pack cosmetic kits that include very little to no liquids.
Tip: You must have a hat, sunscreen, and insect repellant if you are going to the low-lying tropics. We prefer the easy-to-pack "wipes." However, insect wipes are not allowed through security in the U.S as they are "toxic chemicals." (But corkscrews are allowed. Go figure.) Play it safe and put these in your checked luggage. And if you take any prescription medications, take an adequate supply. No matter what you've been led to believe, you may not be able to purchase the exact same prescription overseas.
Pack snacks. There is nothing worse than being stuck in an airport or, even worse, on a long flight without anything healthy to nibble on. Throw some granola bars or peanuts in your carry-on bag. You'll be glad you did.
What else to pack in your carry-on? Your personal electronics. Never ever pack these in your checked luggage unless you are 100 percent OK with losing them. And throw in a small pack of tissues, too, and one of those tiny bottles of cleanser gel. Always handy.
And what not to pack? Jewelry. There's no reason to drag expensive jewelry around with you. Wearing it just draws attention. If you must, take the costume stuff; in the same vein, don't carry big wads of cash or traveler's checks. Those are rarely used anymore and it will be difficult to find anyone who accepts them. The truth is that most of the world outside the U.S. runs on cash. So take enough (maybe $300 or so and in small $20 denominations with 20 or so dollar bills) to get you through the first few days and then find a reliable ATM machine. Know your PIN numbers. We carry two debit cards from separate banks for the rare occasion that one is not accepted.
Tip: Now may be the time to switch to a bank that offers no foreign ATM transaction fees. We love Capital One for that reason.
Hydrate, hydrate, hydrate. This is great advice whether you are traveling or on the ground exploring. Once you are through security, buy a bottle of water to take with you on the plane. And always stock-up if you're going on a long car or bus trip or a long walk. Dehydration is not your friend.
Tip: If you get sick while traveling, grab some Gatorade, Pedialyte, or something of that nature to quickly replenish your electrolytes. As for drinks with ice and eating salads at restaurants in Latin America, look for places that appear to be clean and have lots of customers. In 25 years of traveling, we've each only been sick once (at separate times despite eating the same thing) from anything foodborne. And we eat out a lot.
Have a way to communicate. We admit that we fail in this regard. We do not have a phone with a service plan that allows us to communicate inexpensively from anywhere in the world. But if and when we do find the perfect service, we'll sign up. Instead, we rely on location-specific phones and SIM cards. The only time this system failed us was recently when our flights were delayed and we were forced to run through the Bogotá airport to catch a connection. There was no way to call the driver waiting for us in Ecuador. Luckily, he was still waiting when we arrived at 1:30 a.m.
Tip: We've all heard the horror stories about taking taxis in foreign countries. While you do need to exercise caution, many countries have put safeguards in place to ensure passenger safety. At nearly every airport in the world, for example, you'll find sanctioned taxi stands with safe, reliable drivers. Always make sure you have the address and telephone number of your hotel or accommodation written down. Drivers won't always know where these places are just by name.
Always ask for the discount. In most of the world, negotiating is expected. So when you make hotel reservations or barter with a private driver or, especially, when making a purchase in an artisan mercado, put on your haggle hat. Even in some stores you can get a discount if you ask, as the marked price is often the "credit card price." Pay with cash and save. Be prepared to walk away if you don't agree with the price offered. You'd be surprised at how quickly that will sway the negotiations in your favor. By the way, if you walk into a hotel and inquire about the rates, ask to see a room. Test the hot water, pull the blankets back, and look at the linens.
Tip: We use TripAdvisor and other venues to check out reviews of hotels, restaurants, etc. You'll get good advice from fellow travelers. Still, always ask for a room that's away from street noise. That doesn't mean your room won't border a disco, a neighbor with roosters, or a church with loud bells that ring all night long. Don't pay too far in advance. Stay just a couple of nights before you commit to a longer stay. Two great noise-reduction strategies: ear plugs and noise machines. If you have an iPod, download an app for that. If you travel with a computer and have Internet in your room (which most hotels have these days), you'll find one here for free.
What about travel insurance? If you're concerned that you may have to cancel or postpone your trip, then buying travel insurance is a wise move. You'll often be offered that option when you book your travel. Just be sure to read the fine print so you understand what's covered and what isn't. Know that your health insurance plan at home may not cover you while traveling overseas. Experts recommend purchasing a policy from a company licensed in your home state and not affiliated with a tour operator or other travel-related business. Two comparison sites to check out are InsureMyTrip.com and SquareMouth.com. Both offer several different types of coverage, including trip cancelation, medical insurance, and evacuation policies.
PHOTO GALLERY
Panama - World's Best Retirement Haven
PHOTO GALLERY
Working Overseas
Calling all HuffPost superfans!
Sign up for membership to become a founding member and help shape HuffPost's next chapter