This weekend things are about to heat up -- and it's not just the weather. The time is almost near where summer days are full of sizzling sounds from the grill and it better be from a burger. If there's one guy who knows how it's done it's the 6-time NY Wine & Food Festival Burger Bash Winner, Chef Josh Capon of Lure Fishbar, Burger & Barrel, El Toro Blanco, and Bowery Meat Company. His signature Bash Burger recipe is even in Chrissy Teigen's new cookbook, Cravings. We got to hear his advice on America's favorite pastime from buns to beer.
What was your first memory of eating a burger?
It was at my local burger joint called Our Gang Inn when the waitress asked me if I wanted Fries OR Onion Rings?!?! I was lost. As a "husky" kid growing that was the toughest question I ever had to answer which is why at Burger & Barrel we serve each burger with fries AND onion rings! I later worked there and it was my first line cook job.
So the Lure Burger has been a huge winner of Burger Bash during Food & Wine Festival, how the heck did you come up with it?
It was my interpretation of a Bacon Cheeseburger and that was always my favorite growing up. That's where I came up with the Caramelized onion and Bacon jam. It also came from a few visits to In N Out on the west coast that my partner John was a big fan of. After it won the Burger Bash we named it the BASH Burger.
Besides your burgers, where is your favorite spot to grab one?
Which burger trend are you sick of seeing?
Piling just about anything on top of the burger, especially mac & cheese...
What's the biggest mistake people make when creating a burger?
Overdoing it with condiments and toppings
The meat is obviously a huge component when creating this work of art, what's your preference?
I like a blend of Chuck, Short Rib and Brisket from my boys over at Pat La Frieda - 70/30 ratio.
Say you can only pick 3 toppings for a burger (condiments included), what are they?
American cheese, ketchup and grilled red onion
Your go-to burger bun is....
What is key to making the classic at home?
Freshly ground meat, nice hot charcoal grill or a cast iron pan and a fresh slice of tomato and some grilled red onion with a slice of American cheese. Then let the burger cook and get great caramelization and don't play with your meat!
I've noticed Chrissy Teigen is a huge fan, what do you usually cook for her?
Teigan loves the BASH burger and she even included the recipe in her cookbook Cravings.
You're hosting a BBQ, what sides do you need to have?
I am a big coleslaw guy, great pickles, some kettle chips, fresh corn on the cob off the grill and watermelon.

Let's talk drinks, what are we pairing the hunk of meat with?
Ice Cold Beer! Nothing better than an ice cold can of Budweiser.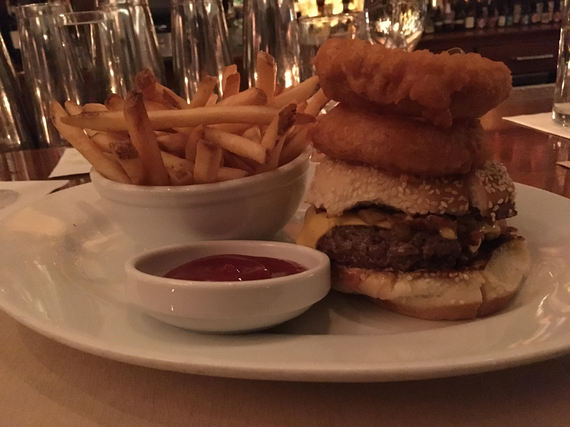 Related